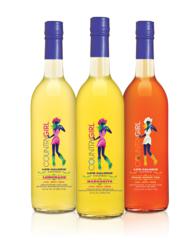 Nashville, Tenn. (PRWEB) October 05, 2012
CountryGirl Cocktails, a new ready-to-drink low calorie cocktail offering, adds a refreshing twist to any occasion by introducing Lemonade, Peach Sweet Tea and Margarita low-calorie cocktails.
Just launched this summer, CountryGirl Cocktails offer a dose of southern hospitality and bring the spirit of adventure in a convenient 32 proof bar style cocktail format. These low calorie cocktails average 50 calories per 1.5-ounce serving at 16% alcohol by volume and are best served over ice, making them perfect tailgate companions for football season and beyond. All three varieties are available in two sizes: 750ml for a suggested retail price of $13.99 and a 1.75L plastic bottle at a suggested retail price of $19.99.
To help get the party started, CountryGirl Cocktails has partnered with Nashville-based Average Joes Entertainment and Miraculous Inc. to offer VIP tickets, meet-and-greet packages and free music downloads through http://www.countrygirlcocktails.com. Average Joes Entertainment represents musicians such as Colt Ford, John Michael Montgomery, The LACS, and others on the country scene.
Ideal for simple entertaining, CountryGirl Cocktails all start with a spirits base and are infused with natural fruit flavors and aromas:

Margarita: a traditional low calorie cocktail, CountryGirl starts with tequila and adds triple sec and agave nectar for a crisp and refreshing cocktail at 52 calories per serving.
Peach Sweet Tea: a hint of southern hospitality, CountryGirl combines vodka with natural tea and peach flavor for a twist on a down-home favorite on a lighter level at 49 calories per serving.
Lemonade: a blend of tart and sweet, CountryGirl adds vodka to natural citrus flavors for the perfect lemony low calorie cocktail treat without the guilt at 51 calories per serving.
CountryGirl Cocktails are currently available in Colorado, Florida, Georgia, Kentucky, Illinois, Michigan, Mississippi, New Jersey, South Carolina, Tennessee, Texas and Wisconsin with additional locations coming soon.
About CountryGirl Cocktails
Introduced in 2012, CountryGirl Cocktails are a ready-to-drink, low calorie cocktail with natural flavors and a spirits based. More than a location, country is a state of mind and CountryGirl Cocktails provide a heaping dose of down-home good times. For more information, please visit http://www.countrygirlcocktails.com.
Kick your heels up, but please enjoy Country Girl Cocktails responsibly.