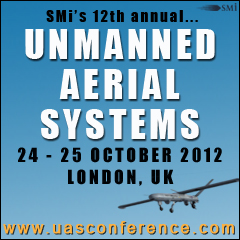 London (PRWEB UK) 4 October 2012
UAS 2012 will take place in London on the 24th and 25th October 2012. This insightful event will bring together a line-up of leading military officials and industry experts exploring the growth and development of the international Unmanned Aerial System market and seeks to further identify and establish the transition of UAS into Commercial and Civilian markets.
High level presentations and case studies will look at the procurement of various UAV platforms by the US and European militaries whilst anlaysing emerging markets worldwide. The conference will go above and beyond a review of developments of Unmanned Aerial Systems by reviewing tactical feedback and addressing issues such as UAS hijacking.
For more information please visit http://www.smi-online.co.uk/unmanned-aerialsystems41.asp
Key Military Speakers include:

Dr. Bill Powers, US Marine Corps
Major Lawrence B. Green II, US Marine Corps
Major Andrea Esposito, NATO
Captain Caden Stiles, Canadian Forces
Lieutenant Colonel Frits Muller, Royal Netherlands Army
Lieutenant Colonel Pieter Mink, Royal Netherlands Army
Commander Vincent Chevalier, French Navy
Major James Palmer, Royal Artillery
Lieutenant Colonel Zoltán Ozoli – Hungarian National Transportation Agency
Register online at http://www.smi-online.co.uk/unmanned-aerialsystems41.asp
###
About SMi Group: The SMi Group is a highly Professional, Independent and Global event producing company that specialises in Business to Business Conferences, Workshops, Masterclasses and online Communities. Our aim is to provide you with the Highest Quality Events in Defence, Security, Energy, Utilities, Finance and Pharmaceutical sectors, which are timely, relevant and important to you and your company!
We are Experts in knowing Experts and have been bringing you this Expertise since 1993!