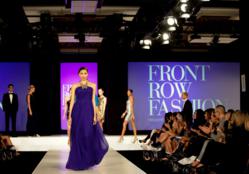 This year's Bellevue Fashion Week events were even more spectacular than in years' past
Bellevue, Washington (PRWEB) October 03, 2012
Kemper Development Company's dazzling Fashion Week at The Bellevue Collection runway shows raised more than $62,000 for The Moyer Foundation and Bellevue LifeSpring. Posh Party Beauty and Trend Show, held Friday, Sept. 28th, raised some $10,000 for Bellevue LifeSpring and the signature event of the week held on Saturday, Sept. 29th, Front Row Fashion presented by Vogue, raised more than $52,000 for The Moyer Foundation. Both shows were underwritten by Kemper Development Company so that 100% of the all ticket sales would benefit the two non-profit organizations.
Karen Moyer, co-founder of The Moyer Foundation, opened the show to welcome the crowd and introduce Vogue's own Anne Vincent. "This is the third year in a row that this exciting fashion event has been the centerpiece of a major fund raising event for our Foundation," says Moyer. "The Moyer Foundation is grateful to Kemper Freeman, Kemper Development Company's Bellevue Collection and Vogue, and is honored to partake in such an amazing fashion show. Together we are making a difference in the lives of children in distress."
"Kemper Development has supported Bellevue LifeSpring (formerly Overlake Service League) for decades," say Trish Carpenter, Board Chair, Bellevue LifeSpring. "We could not be more grateful for their ongoing efforts on our behalf to help us bring these vital services to our Eastside community."
"This year's Bellevue Fashion Week events were even more spectacular than in years' past," says Jennifer Leavitt, vice president of Marketing, Kemper Development Company. "Posh Party, our girls' night out event, proved to be very entertaining and what I'd call 'fashion educational' featuring hands-on beauty tips and spot-on advice from Bruce Pflaumer of PStyle Image and Consulting for how to wear this year's trends with your body type, which is always a hit. Terri Morgan of TCM Models and Talent wrapped the night up with a high energy trend show of Bellevue Collection fashions. The Front Row Fashion Show was just stunning this year. Nowhere else in the Puget Sound will you get to see the pages of Vogue come to life on the runway like they did with Anne Vincent sharing the magazine's trend point of view.
About Bellevue LifeSpring
Formerly known as Overlake Service League, Bellevue LifeSpring's mission is to promote stability, self-sufficiency and independence for those in need in the Bellevue community through programs and services that feed, clothe, shelter and educate through emergency service programs, youth programs, educational grants programs and its holiday program.
About The Moyer Foundation and Camp Erin
The Moyer Foundation – (a public, 501 (c) 3 non-profit organization) was founded in 2000 by Major League pitcher, Jamie Moyer and his wife, Karen. The Foundation's mission is to help children in distress. With the community's support, The Moyer Foundation creates and funds programs that directly serve the needs of children in physical, emotional or financial distress. The Foundation's largest initiative is Camp Erin, free bereavement camps for grieving children and teens ages 6-17. For more information and to get involved go to http://www.moyerfoundation.org
About The Bellevue Collection
Located in the heart of Bellevue, Washington, The Bellevue Collection, owned by Kemper Development Company, includes Bellevue Square, a super-regional upscale shopping center, Bellevue Place, a mixed-use property featuring the Hyatt Regency Bellevue and small boutiques and Lincoln Square anchored by the Lincoln Square Cinemas, restaurants, home furnishings and The Westin Bellevue hotel. This distinctive collection features 250 of the finest shops, 23 sit-down restaurants, a 16-screen premier cinema, 1,000 luxury hotel rooms and 10,000 free retail parking spaces, all in one location. The Bellevue Collection is a shopping, dining and nightlife and entertainment experience unlike any other in the region. It is located on Bellevue Way between NE 4th and NE 10th Streets in downtown Bellevue, just across Lake Washington from Seattle.