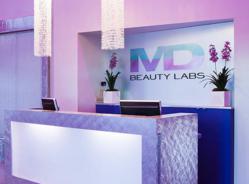 This procedure can be used on anyone who has loose skin that needs firming or tightening. It can be applied on any area of the body, face, neck and tummy, and is suitable for all ages.
West Palm Beach, FL (PRWEB) October 05, 2012
It's a busy time at MD Beauty Labs, located in the heart of West Palm Beach, Fla..
Already recognized as the premier Palm Beach Med Spa, MD Beauty Labs has introduced a range of exciting new procedures in the past six months. These services are in addition to the established and popular range of procedures for which Dr. Daniela Dadurian has earned an enviable reputation as a caring, sensitive, and experienced professional.
The newest treatment that the spa is offering is the revolutionary, non-invasive Venus Freeze, which combines two sources of energy, namely, multi-polar radio frequency and pulsed magnetic fields, which work synergistically to tighten skin, and improve its elasticity and overall condition. Not only does a patient's skin tissue experience a self-repair process from the Venus Freeze thus minimizing wrinkles, but simultaneously subcutaneous fat masses can be decreased and body circumferences reduced.
The results achieved using this patented skin rejuvenation technology are not only remarkable, but also pain-free with no damage to the skin. The facility's MedSpa Director Jennifer Carbone explains, "This procedure can be used on anyone who has loose skin that needs firming or tightening. It can be applied on any area of the body, face, neck and tummy, and is suitable for all ages."
The Venus Freeze technique can also be used to treat cellulite, eliminating its "orange peel" effect, while also improving blood circulation.
The Vampire Facelift, demonstrated on The Doctor Show, is another of the new, patented procedures recently introduced to MD Beauty Labs. Carbone explains, "It is designed for somebody who cannot be injected with regular fillers in, for example, the hollows under the eyes or above the brow." She continues, "Unlike regular fillers, which can make the skin look 'bumpy,' the Vampire Facelift looks completely natural."
The procedure involves drawing the patient's blood, placing it in a centrifuge, then spinning it until the platelets are separated out, thus creating a serum called RegenPlasma, which, says Carbone, can be, "Re-injected back into the patient to stimulate cell-regeneration using the patient's own collagen, thus improving the texture of, for example, sun-damaged skin or lifting lids above the brow." Blood is drawn, safely prepared and delivered back to the patient's skin all within the same treatment session.
One of the primary advantages of the system, apart from the significant reduction of fine lines and wrinkles and a general plumping and smoothing of the skin, is that there is virtually no risk of an allergic reaction to or rejection of the RegenPlasma since all its constituents are derived from the patient him/herself.
Measurable improvements in skin complexion, texture and tone from the Vampire Facelift typically take three to eight weeks to become apparent, and can last an average of six to eight months, extending up to two years in some cases.
Staying with skin beautification, MD Beauty Labs is offering a new filler for wrinkle-correction known as Artefill, which will last longer than any other filler on the market, continuing to have a beneficial effect for three to five years. Candidates for this procedure, explains Carbone, are, "The more experienced patient, who comes in regularly, and is tired of the cost, expense and frequency of other treatments." Artefill is made from, "Tiny little microspheres combined with collagen," says Carbone, adding that the microspheres are not absorbed by the body thus providing the support skin needs to give, "Natural, long-lasting results." Artefill is generally described as a,"Semi-permanent filler," but she notes patients must be skin-tested prior to starting the procedure due to the presence of collagen in Artefill. MD Beauty Labs offers a complimentary consultation and free skin test to determine each patient's suitability for an Artefill program.
Vitamin therapy has been popular with celebrities and movie stars for many years, but it is now becoming increasingly popular as a mainstream solution to increasing energy, memory and concentration, while reducing fatigue and the effects of aging. In an all-new process, MD Beauty Labs is offering an intravenous (IV), special formulation of vitamins, which are individually customized and then directly absorbed into the bloodstream in a procedure lasting 20 to 30 minutes.
The vitamin infusion can include Vitamins B and C, Magnesium, Calcium, Folic Acid and other natural elements. Administered under the doctor's supervision, either weekly or monthly, IV-vitamin therapy can be combined with a weight-loss program. Carbone notes, "It's becoming more and more popular – people are doing it for their health and also preventative reasons."
On the subject of weight loss, MD Beauty Labs has introduced the novel and increasingly popular Human Chorionic Gonadotropin (HCG) diet. This hormone, produced naturally in large amounts by the placenta during pregnancy, has two-fold benefits to the patient yearning to lose weight. Firstly, it suppresses the appetite and secondly, HCG pulls 2,000 to 3,000 calories per day from existing fat. These characteristics combine to allow the patient to consume between 500 and 800 calories a day without experiencing hunger.
There are two different protocols both of which employ small-quantity injections: the 23-day regime for patients wishing to lose up to 25 pounds and the 40-day regime for those seeking to lose 25 pounds or more. Before an HCG Diet is begun, Dr. Dadurian takes a full medical history and conducts a complete medical exam. She then monitors the patient closely throughout the program supplying him/her with a healthy 500 to 800 calorie diet to follow during the active weight loss phase and then another of between 1,500 to 1,800 calories to ensure the weight loss is maintained after the final HCG injection has been given.
These new procedures enhance the already outstanding range of services offered by Dr. Dadurian and her staff at MD Beauty Labs. All are performed in the beautiful facility on S. Quadrille Blvd under the expert and caring eye of Dr. Dadurian, who consistently puts the welfare of her patients first, while ensuring their every beauty need is fulfilled.
MD Beauty Labs is located at 320 S. Quadrille Blvd., West Palm Beach, FL 33401. Hours are 9am to 4:30pm on Monday, Tuesday, Wednesday and Friday, 9am to 7pm on Thursday, and 9am to 1pm on Saturday. For more information or to schedule an appointment, call 561-655-6325.