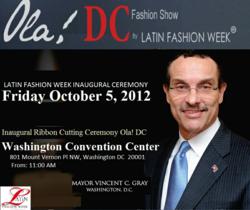 OUR Style, OUR People, OUR World. Ola!
Washington, DC (PRWEB) October 05, 2012
For many years Washington DC has been the house of Latin Fashion Week events. Latin fashion week 2012 inauguration ribbon cutting ceremony is honor to have the presence of the honorable Mayor Vincent C. Gray. The inaugural ceremony will take place at the Washington Convention Center, October 5, 2012 at 11am.
Latin Fashion Week DC 2012 celebration of Ola! (Welcome) where, art, style, culture and people meet. Mayor Vincent C. Gray will be joining by Mrs. Angela Franco, CEO of the Greatest Washington Hispanic Chamber of Commerce (GWHCC) and the Latin Fashion Week designers 2012 as, Mia Elliott, Tim Bradley, Edith Cary, Cesar Alcocer, Jaggy Owl, Mayerly Rodriguez, Mario Gallegos Jr., Rosita Hurtado, Emily Gonzaga, Ilka Harrigan, Geova Rodriguez and staff.
According to figures recently released by the Associated Press based on 2010 Census Bureau data, Hispanics accounted for more than half of the U.S. population increase over the past 10 years and crossed a new census population milestone by reaching 50 million—the equivalent of 1 in 6 Americans. Market research publisher Packaged Facts' Latino Shoppers: Demographic Patterns and Spending Trends among Hispanic Americans, 8th Edition predicts that Hispanics will be responsible for more than half of the growth in the U.S. population between 2010 and 2015.
DC Mayor Vincent C. Gray present at the opening ceremony of Latin fashion week 2012, Ola! DC is essential to the continue growing of the Latin Fashion movement, it presence send a strong stamen to the dynamism and diversity that keeps our community growing, as well as proving the apparel industry with a welcome feeling. DC has it all, we need to work hard to help establish DC as one of the fashion capitol destination, said "Sobeidy Vidal" Latin Fashion Week President.