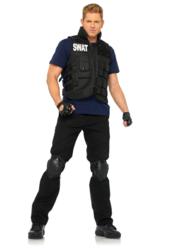 (PRWEB) October 05, 2012
Strong, sexy Halloween costumes are top sellers for both men and women this year, according to the State Fair Halloween Superstore, a retailer specializing in costumes, accessories and decorations in Belleville, N.J. Men are seeking out superheroes such as the Avengers, Batman and Superman. Women, meanwhile, are going for sassy, power themes such as Avengers' Black Widow, queens, witches, vampires and even lady zombies.
"We're seeing significant interest in costumes that portray men as tough guys – caped crusaders, SWAT officers and Trojan warriors – as well as weapons such as swords, lasers and guns," said Michele Tartaglione, Managing Director of State Fair Halloween Superstore. "Women are looking to make a strong, sassy statement, whether they choose fantasy, horror or storybook characters."
Female customers are going for sassy accessories as well, including corsets, heels, and even faux animal fur, the retailer reports. Tween and teen girls want to be as sexy as their parents will allow, but trend towards the recognizable characters like Alice in Wonderland or Red Riding Hood. This year, younger girls are going for Monster High costumes, as well as traditional witches and Disney costumes. Boys, meanwhile, are following the trend of the big boys and seeking out superhero and movie-themed costumes such as the Avengers and Batman.
"College-aged and young men go for silly or funny – oddly enough, Mario Bros are big, as is dressing in drag. We sell more wigs to men than to women," adds Tartaglione. "Married men are happy to be part of a couple as long as they are comfortable and don't feel foolish."
For more Halloween fun, the store is sponsoring State Scare on weekends throughout the month of October. State Scare, located adjacent to the store, is a 35-minute long interactive haunted experience, with 31 rooms of terror, intricately designed by a team of artists with major motion picture and TV special effects experience.
The theme of this year's haunt is "The Shoppes at Maim Street" – a nightmare of a strip mall that looks like a Norman Rockwell painting on the outside, but inside is anything but. State Scare features real actors, in elaborate zombie makeup, who delight in getting under the skin of those they encounter.
State Fair Halloween Superstore and State Scare are located at 241 Main Street, Belleville. For information call (973) 450-1070. Visit http://www.statescare.com for information, and coupons for the haunted attraction. For information about State Fair's seasonal stores – including Halloween, Christmas and Pool & Patio, visit http://statefairseasons.com/.
About the State Fair Halloween Superstore
The State Fair Halloween Superstore is a seasonal retail attraction at the State Fair Shopping Plaza, 241 Main Street, Belleville, NJ. The Halloween Superstore offers tens of thousands of costumes and accessories for children and adults, sized infant to adult plus. There is also a huge selection of make-up & prosthetics, props, lighting and decorations for outdoor and indoor. At State Fair it's "Halloween Like You've Never Seen." For information about the Halloween superstore, visit http://statefairhalloween.com/ or call 973-450-1070.