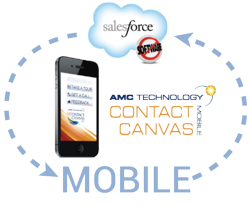 Richmond, Va. (PRWEB) October 04, 2012
AMC Technology, a leading global provider of CRM and CTI contact center integration software, is pleased to announce an upcoming webinar on increasing Salesforce CRM efficiency for outside sales and field service and support staff. The webinar will take place on Tuesday, October 16th, from 11 a.m. to 12 p.m. EDT.
Join Aimee Stinson, AMC's Director of Software Development and Tim Asimos, AMC's Director of Marketing, as they present an overview of AMC's new Contact Canvas Mobile application. They'll discuss how the features and functionality of the application leverages AMC's 18 years of expertise increasing contact center efficiency through CRM and CTI integration.
Some Exciting Features Webinar Attendees Will Learn About:

Screen Pop feature displays a contact's CRM information based on incoming calls and SMS texts, giving mobile staff critical information while communications transpire
Activity logging provides mobile staff an efficient way to keep track of their ongoing customer interactions, automatically logging activities that can be edited immediately or at a later time
Silent logging mode is ideal for those who want to automatically log their activities, but would rather have Contact Canvas Mobile run in the background or during work hours
CRM capabilities allow users to create and save new contacts, search for and edit existing contacts, click-to-dial and click-to-text from a contact record, view and edit activity history
Easily installs on any Android™ or iOS device and is easily connected to your company's Salesforce database
Complementary to the Salesforce mobile application or can stand alone as its own gateway into Salesforce
Additionally, attendees will also learn about AMC's year-end promotional offer for free mobile agent licenses, exclusively for new or existing AMC customers running AMC Contact Canvas for Salesforce.
To register for the webinar, please visit: http://marketing.amctechnology.com/acton/media/3146/increase-salesforce-crm-efficiency-for-mobile-staff.
About AMC Technology
AMC Technology, LLC, is a global industry leader in contact center and CRM integration with nearly 20 years of experience. AMC powers contact centers for customers around the globe through certified products and unparalleled expertise. AMC Contact CanvasTM product suite allows customers to integrate business applications and communications across the enterprise, from call center agents to knowledge workers and mobile staff. For more information, visit http://www.amctechnology.com or contact sales(at)amctechnology(dot)com or +1 (804) 419-8600.