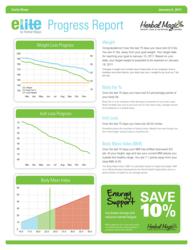 eLite by Herbal Magic helps us evaluate your weekly weight loss and identify weight-loss trends so we can continue to set goals and focus the program on individual needs.
- Caroline Kolompar, CMO
Toronto, Ontario (PRWEB) October 05, 2012
The upcoming holidays can be a dieter's nightmare. While Thanksgiving kicks things off this weekend, Halloween treats are hot on its heels and holiday parties are just around the corner. It can be a tough time to stay on track or to begin a new weight-loss program. Thankfully, Herbal Magic is here to help. Herbal Magic is pleased to introduce a few smart strategies and helpful tips to avoid calorie overload this Thanksgiving.
While a little indulgence is anticipated on special occasions, the average person will consume nearly 3,000 calories in one Thanksgiving meal. Burning off those calories would require an individual to swim for roughly five hours or run at a moderate pace for approximately four hours. A smarter strategy to combat potential weight gain from Thanksgiving dinner and upcoming holiday meals includes planning for big meals by eating lighter, lower calorie and lower fat fare in the days leading up to the event as well as exercising portion control during the big meal.
As part of Herbal Magic's program, the revolutionary eLite system is an online weight management system. It links directly to the scale to record, track and provide detailed analysis, allowing Herbal Magic's personal coaches to evaluate progress thoroughly and accurately – identifying behavior patterns, success trends and personal challenges that may prevent maximum results.
"eLite is an amazing technology exclusive to Herbal Magic," said Caroline Kolompar, Chief Marketing Officer of Herbal Magic Weight Loss Centres. "It electronically records and tracks your weight, calculates body fat percentage, tracks inches lost and graphs your progress. It helps us evaluate your weekly weight loss and identify weight-loss trends so we can continue to set goals and focus the program on individual needs."
While Herbal Magic's eLite system can help deter holiday indulgence in advance as well as mitigate potential damage afterwards, here are helpful hints to avoid overindulgence at the Thanksgiving table:

The Snack Attack – While the average Thanksgiving meal clocks in at nearly 3,000 calories, this total can creep up to 4,500 calories when pre-meal snacks like high-calorie nuts or nibbles from the carving board are factored in. Instead, have a small salad or light, broth-based soup before the big meal to curb calories consumed prior to the main feast.
Rational Rations – Calories add up quickly when you do not practice appropriate portion control. But sampling smaller portions of holiday favourites can keep cravings under control while trimming calories overall.
Smart Side-dish Substitutions – The host has the option to cut the most calories by making smart substitutions in the preparation of holiday favourites. Try using fat-free sour cream or starchy cooking water from the potatoes to give mashed potatoes a creamy texture without the fat of added butter or cream.
Trimmer Turkey Tricks – Hosts entertaining a smaller crowd can buy a turkey breast instead of the whole bird as white meat is lower in calories and saturated fat than dark meat. Avoid self-basting turkeys – for those that control the baster control added calories! Also, avoid rubbing the skin with butter and oil and instead use a non-fat cooking spray for sheen.
About Herbal Magic Weight Loss & Nutrition Centres
With approximately 280 centres nationwide, Herbal Magic is the largest Canadian owned and operated weight-loss company in Canada. Every Herbal Magic Canada team member has been extensively trained and certified as an Herbal Magic Personal Health Coach. With the support of its Scientific Advisory Team – comprised of naturopathic doctors, nurses and dieticians – Herbal Magic's weight-loss experts have the experience, training and tools needed to support clients throughout their weight-loss journey. Herbal Magic's comprehensive system of real food, personal health coaching and natural health products is, quite simply, a common-sense approach to lasting weight loss. Visit http://herbalmagic.ca to learn more.