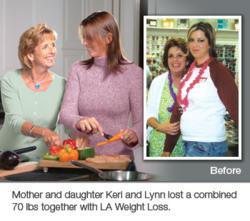 LA Weight Loss focuses on real foods available anytime, anywhere – so the whole family can enjoy the same meals together. - Caroline Kolompar, CMO
Greensboro, North Carolina (PRWEB) October 15, 2012
Being the cook in the family makes it easier to control what the whole family eats by planning healthy meals. But as the home chef, sometimes it's tough to work with the eating habits of different family members. While there are an abundance of recipes for healthy meals, quelling a craving for seasonal favorites like flavored coffees or indulgent beverages is a whole other game. Think about it: whether just waking up, curled up in front of a fire on a cold day or entertaining others – a beverage is usually at hand. Now think about just how many (gulp!) unwanted calories are being gulped down. Here's a refreshing idea: LA Weight Loss is pleased to release its Slim Sipping cookbook online.
While drinking water frequently is important for weight loss and general good health, it's nice to have a drink with some flavor and pizzazz every once in a while. Unfortunately, many alternatives to plain H2O – like sugary sodas or rich, creamy lattes – are easy ways to guzzle unnecessary calories. In fact, the average American consumes an extra 245 calories a day from soft drinks. That's nearly 90,000 calories a year! Divide that by the 3,500 calories it takes to gain or lose a pound of fat and that translates into 25 pounds a year that could be lost by replacing soda with healthier beverages. With LA's Slim Sipping cookbook, LA Weight Loss nutritionists have developed over 20 program-approved recipes that the whole family will enjoy. Here's just a sampling of recipes sure to meet the approval of any breakfast skipper, sweet tooth or coffee fiend in the family.
The Breakfast Skipper: Breakfast may be the most important meal of the day, but old habits die hard with the breakfast skipper. If oatmeal or egg-white omelets seem like too much of a change to stomach, start forming good lifelong habits with a smoothie as part of a healthy breakfast instead. Try a delicious good morning Jump-Start Energy Drink made by blending fibre cereal, strawberries, milk and yogurt. Or make a Frozen Fruit Smoothie by placing raspberries, a banana, orange juice, yogurt and vanilla extract in a blender and blend until smooth. Best of all, both are on-program and good for the whole family!
The Sweet Tooth: Out of sight doesn't always equal out of mind. While unhealthy sweets and snacks may have been banished from the cupboards, sometimes they still sneak back into the house via ice-cream shop stops, Halloween treats or holiday baking. If willpower isn't enough, try bringing leftover treats into work to share with the office. Next, get to the root of the sweet tooth: address a sugar fix with some sweet alternatives. Set a good example by curbing that sweet tooth with a Banana Split Shake, Lemon Meringue Shake or Creamsicle Shake. For a recipe the kids can enjoy, substitute SlimDown powder with Greek yogurt or frozen yogurt before blending the remainder of the ingredients.
The Coffee Fiend: Is someone in the family craving creamy coffee-based concoctions? With a chill in the air, it becomes tempting to warm up with seasonally inspired menu additions. But spiced syrups can be loaded with calories. Save bucks by making healthier versions of favorite fall drinks at home instead. Invest in a thermos and brew Hot Chai Tea or Spiced Coffee. Or for a refreshing treat, try an icy Coffee Granita.
"Dieters often have difficulty integrating their family into their new, healthier lifestyle," said Caroline Kolompar, Chief Marketing Officer of LA Weight Loss Centers. "LA Weight Loss focuses on real foods available anytime, anywhere – so the whole family can enjoy the same meals together. The online introduction of LA's SIim Sipping Cookbook offers new, creative ways to enjoy some of your favorite beverages and discover new ones. Not only do these recipes taste great, but they'll leave you feeling satisfied – helping you lose weight and reach your weight-loss goals faster."
About LA Weight Loss
Since 1997, LA Weight Loss has helped millions of people reach their long-term weight loss goals. Whether clients visit an LA Weight Loss center for one-on-one counseling or opt for the convenience of the at-home program, members lose an average of one to two pounds per week and learn how to keep it off for good. At LA Weight Loss, healthy living is not just for the rich and famous – it's for everyone. For more information about LA Weight Loss, visit http://www.LAWeightLoss.com.