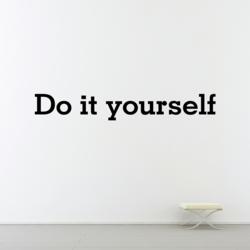 Stick to your expectations
ESSEX JUNCTION, Vermont. (PRWEB) October 17, 2012
Voila! stickers – decoration , the US-based, French wall stickers company presents the solution for the odd empty wall space in any home, office, or classroom. Launching and manufacting its new line in the US, the customizable wall stickers quote collection is designed specifically to personalize space and suit the unique needs of individual customers.
In response to the popular demand, the new collection features nine fonts of vinyl lettering in varied sizes and colors and allows consumers to uniquely individualize space with an important quote or motto that rings true to them. For each request the company's designers provide estimates tailored to the color and size requirements of a particular wall space.
Customers can simply receive estimates by going to the Voila web page, clicking on the customizable wall decals quote collection, and typing the desired quote, color, and font into the space provided.
The made-to-order collection complements the company´s previously released designs known for their distinctly urban bent. Playing on the idea of light and shadow, a squirrel perches the top of a bookshelf or the black outline of the royal guard, a European street light, graffiti, or any number of skylines add interest to walls of almost any home. Cityscapes, popular international landmarks, Art Nouveau arabesques, nature scenes, and cult classic characters are a few of the most popular decals of the current collection of over 450 designs.
Company innovators look forward to developing new peel and stick collections and in the future and providing a fun new edge to the adult consumer to whom the product is primarily marketed. Collections that have been the foundation of the company are likely to stay on its on-line menu as new ones are offered.
All of the stickers are made to order in the USA per customer request. Freshly produced wall designs adhere more easily to walls than ones that are mass-produced and stored in warehouses for long periods of time. When ordered, each request is sent directly to the design team, then to its manufacturer in Vermont. Voila! wall stickers last up to three years outdoor areas and five years indoors causing no permanent damage to finishes or paint.
Consumers in the USA can browse all urban wall art designs at their website.