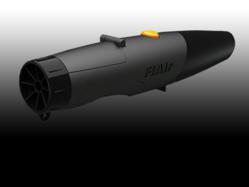 With three shifts running at each station, we estimate that the FiAir project will sustain or create at least 21 jobs in the manufacturing phase and additional employment in assembly and fulfillment.
Pittsburgh, PA (PRWEB) October 09, 2012
FiAir LLC is contracting with Dana Molded Products (DMP) of Carpentersville, Illinois to manufacture its new grill, hearth and campsite tool that speeds the kindling of wood and charcoal fires. The product — called FiAirTM — is a portable, hand-held, battery-powered blower that produces a controlled and continuous flow of air to rapidly stoke lit coals and logs. FiAir typically brings coals to cooking temperature in 8 to 12 minutes, roughly half the time of traditional methods. At the hearth or campsite, FiAir brings wood fires from first light to full blaze in under two minutes.
FiAir LLC Founder Alan i Harris says that the decision to manufacture FiAir in America has always been a non-negotiable part of his business plan. "We could have saved $36,000 by making our product in China, but earning the Made in America label and helping U.S. workers put food on the table is a point of pride for us. It took an additional year to make it happen but it was well worth the wait."
Dana Molded Products, a leading manufacturer of custom plastic injection molded products for Red Box, Sherwin Williams, Turtle Wax and other familiar brands, will both manufacture and fulfill orders for FiAir at its mid-West facility. Chad Miller, DMP Vice President, Sales and Engineering, says that 7 of 28 production stations will be utilized in converting plastic pellets and components to finished FiAir blowers. "With three shifts running at each station, we estimate that the FiAir project will sustain or create at least 22 jobs in the manufacturing phase and additional employment in packaging and fulfillment."
Patriotic and practical
Although it will cost the company more to do its "fair share" for the U.S. manufacturing sector, Harris says that making FiAir in America makes good business sense.
"We're not just paying more to manufacture in the U.S., we're getting more — in quality, return on investment and customer service. Manufacturing tooling from American grade steel and with American engineering will mean higher quality, longer lasting molds. Eliminating the step of shipping product from overseas and combining manufacturing and fulfillment in the same location will dramatically reduce consumer wait time from order to delivery. Also, being geographically and culturally close to our domestic manufacturing partner means that we can quickly address any issues with nothing lost in translation. There's no question that Made in America began as an emotional decision; but it turns out that it will give us a better product, which is the right decision for our customers worldwide."
Eco-friendly and labor-fair
Responsible manufacturing was also a driver in the company's decision to make its product in a plant governed by U.S. environmental standards and fair labor practices. FiAir LLC selected DMP, in part, for its designation as a "sustainable manufacturer." DMP's new 86,000-square foot state of the art facility utilizes natural geothermal energy to run its processes and cool its plant, streamlining operations and reducing energy consumption by more than 1.2 million kilowatt hours annually and its carbon footprint by more than 600 tons of carbon dioxide annually. Over 10% of energy consumed by the facility is derived from renewable energy sources, adding another 500,000 pounds of CO2 savings.
About FiAir LLC
FiAir LLC is the developer and sole provider of FiAir™, a portable, battery-powered blower that feeds and speeds charcoal and wood fires at the grill, fireplace, tailgate party or campsite. Its lightweight, compact design and battery-powered motor make FiAir the first truly portable, indoor-outdoor blower on the grill and fireplace accessories market. FiAir will retail for $29.99 and be sold exclusively online for projected shipment in spring 2013. For more information about FiAir or to place a no obligation pre-order at a discount of 33%, please visit http://www.fiair.net/. FiAir LLC was established in April 2012 and is based in Pittsburgh, Pennsylvania.