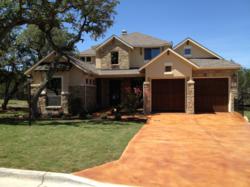 Austin, Texas (PRWEB) October 05, 2012
Coventry Homes, Austin's premier community builder of luxurious, award-winning and energy-efficient homes, has proved once again that they consistently exceed expectations and take its clients' satisfaction to new heights. Homeowner Greg Reisman and his ten year-old daughter Ella have seen firsthand, not only the benefits of living in a Coventry Homes house, but how the leading Texas builder helped make their new house a home. Greg has given the following interview to confirm Coventry Home's quality building:
What brought you to the Austin area?
Greg: I have lived in Austin for almost 20 years and love it. I moved here when Cisco Systems acquired the startup company I worked for. I also went to the University of Texas at Austin.
What were you looking for when you were searching for a new home?
Greg: First and foremost, I moved from Northwest Austin to stay near my daughter as her mother decided to move. Lakeway was a great choice with a brand new area being developed—Rough Hollow—and only six miles from my daughter's school. I was also interested more in new construction, a neighborhood that was good for kids with community amenities and accessible to both Highway 71 and Highway 620 for school and work commuting.
How did the Coventry Homes location you ended up purchasing resonate with you?
Greg: The Rough Hollow neighborhood was the initial big draw with the lake access, hill country views, and great community plan. Once I chose the area, Coventry Homes stood out as the builder that offered the most for the money with the best quality in the construction and design options. The neighborhood I am in also attracted me because of its newness—I was the first house completed and closed in Canyon Ridge—and the fact that it will ultimately have lake access and allowed me to buy a beautiful, spacious $450,000 home that would be in a community of mostly $600,000-and-higher custom homes, all the way up to multiple million.
Tell me a little about your house.
Greg: It's a four-bedroom, four-bathroom two-story house with a media room and office. The home features a sandstone and stucco exterior. The interior boasts lots of archways and rounded corners with a big, open floor plan. It also has a nice covered patio space and large, heavily treed back yard.
What is your favorite aspect about your neighborhood?
Greg: The Rough Hollow community and its planned amenities—the marina, pool, restaurants and so on.
What is your favorite aspect about your house?
Greg: I love the exterior design; I love the stone and stucco, the columns and the overall look and feel of the house.
What room(s) do you spend the most time in and why?
Greg: The family room—it's a large open space near kitchen, [which is] perfect for relaxing, watching TV and etc.
What do you and your daughter, Ella, like to do in your area that is near your home?
Greg: We go to the pool, enjoy the area shopping and restaurants in the Hill Country Galleria, explore the hill country and find new geocaching territory to explore—which is one of mine and my daughter's favorite past times!
What else can you share about you, your daughter and your home?
Greg: Probably the thing that makes me happiest about my new home is the numbers of times I've heard my daughter say how glad she is that I moved here. She loves the house—the area—and exploring all the new parts of the neighborhood that are continually changing as it grows.
About Coventry Homes in Austin, Texas:
Coventry Homes provides award-winning new homes customized for luxury living in Austin and the state of Texas for nearly 25 years. The energy-efficient new home plans are artfully designed with you in mind. As the premier Texas homebuilder, Coventry Homes exceeds expectations and takes its clients' satisfaction to new heights. Whether you're new to Austin or are relocating to another part of town, living in a Coventry Homes community will enable you to appreciate and enjoy living in this bustling, vibrant city. Contact a representative of Coventry Homes to discover customized luxury homes for you in the Austin area.
For more information, please contact the Internet Advisor at 888-406-7087 or customercare@mhinc.com.