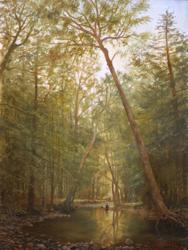 Charlotte, NC (PRWEB) October 04, 2012
McColl Fine Art, a premier art gallery in Charlotte, North Carolina, is pleased to announced that they are hosting an upcoming art show that will feature the work of several artists of the Hudson River Fellowship. On Thursday evening, October 25, 2012 from 6:00 p.m. until 8:00 p.m., the gallery will showcase the Hudson River Fellowship paintings at their Charlotte gallery at 126 Cottage Place in Charlotte.
The Hudson River Fellowship is an endowment of the Grand Central Academy of Art. The fellowship's focus is field studies, theory and studio painting. The program brings together the reawakening enthusiasm for classic American landscape painters, the vigorous scene of contemporary landscape painting and the urgent need for a renewed reverence for the land.
The featured Hudson River Fellowship artist at the show will be Erik Koeppel, whose beautiful paintings capture the landscape of the Hudson River area. Mr. Koeppel creates his pieces utilizing plein air painting. Plein air, a French word, literally translates as 'open air', and is defined as painting or drawing done outside, in the open air. Mr. Koeppel's painting reflect the wide spaces, hills, waterfalls, quiet forests and lush landscaping of the Hudson River area.
Other featured Hudson River Fellowship artists include Nicholas Hiltner, Edward Minoff, Todd Casey, Travis Schlaht, Travis Seymour and Joshua LaRock.
Additional paintings by the artists of the Hudson River Fellowship will be shown at the 60th Annual Theta Charity Antiques Show on November 15-18, 2012 at the George R. Brown Convention Center, Hall A, in Houston, Texas. For further information about McColl Fine Art, including photographs of Erik Koeppel paintings, visit the gallery's website at http://www.mccollfineart.com.
About the company:
McColl Fine Art is one of the premier art galleries in the Country. Located at 126 Cottage Place in Charlotte, NC, McColl Fine Art specializes in fine American and European paintings with a primary focus on 19th century art works, early 20th Century art work, as well as Classical Contemporary works of art. They offer works of exceptional quality from periods including the Barbizon School, the Hudson River School, Academic painting, Impressionism and Post-Impressionism. For more information visit their website at http://www.mccollfineart.com.