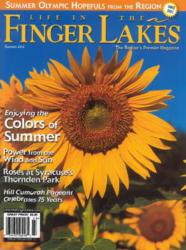 Phelps, NY (PRWEB) October 05, 2012
The Renewable Energy Division of Halco has been featured in, "The Power of the Wind and the Sun," an article in the summer issue of Life in the Fingerlakes magazine. The article tells of Halco helping a family use wind and solar power for their home's electricity.
For this major project, Halco's Renewable Energy Division performed all the design-work and installation of the two systems that when combined provide 50% of the customer's electric usage for one year. They installed a wind electric turbine on a 100-foot tower in addition to a grid-connected solar electric system oriented to the south, on an adjustable pole, and mounted near the house.
The article goes on to explain the savings the customer is enjoying as well as the appealing incentives and tax credits available to homeowners making use of renewable energy. In fact, Melissa Kemp, Halco's Renewable Energy Manager, notes that the Finger Lakes region of New York State has plentiful renewable energy resources coinciding with Hal Smith, president of Halco, saying that energy resources are a prime consideration among the area's population.
The Renewable Energy Division of Halco specializes in designing and installing reliable renewable energy systems including those for solar electricity and power, wind power, solar heating, and geothermal heating. They are dedicated to increasing the energy efficiency of homes using sustainable energy and natural resources.
Halco has seen enormous growth since its founding in 1984. Today, they focus on providing high-quality energy solutions including high-efficiency heating and cooling systems, home energy assessments, insulation and air sealing, as well as renewable energy systems.
Halco serves both residential and commercial customers from Rochester, Binghamton, Liverpool, Ithaca, Syracuse, Utica, Rome, Endicott, Webster, Elmira, Oswego, and more!