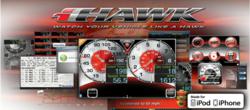 iHawk; Watch Your Vehicle Like a Hawk!
(PRWEB) October 10, 2012
iHawk consists of a small Bluetooth "LINQ" module and an Apple® iPhone® "App" (application) downloaded from the Apple® iTunes® App Store. The LINQ plugs into the diagnostic port under the dash. Installation takes seconds and requires no tools!

Easily flick through multiple dashboards, gauge screens, and other diagnostic choices
Measure vehicle acceleration (requires web connection)
Gauges display hundreds of vehicle parameters
Set automatic alerts
Data log any parameter
View in analog or digital gauge style
Calculate 0 to 60 and 1/4 mile times
Customizable gauges can be set to any parameter, in any parameter, in any combination
Real time Dashboard and One Touch data logging records what is seen
No tools required
CAN based import and domestic vehicle coverage
The Superchips iHawk is compatible on vehicles 2007 and up, and many CAN based vehicles prior to 2007. iHawk uses iMiken™ PATENT-PENDING AccuPerformance system to acquire vehicle data, weather data, and performance data and integrates them all to provide accurate results. It's like having a portable dyno, digital gauge kit, trouble code scanner, data logging, and 1/4 mile drag strip for a vehicle neatly controlled and packaged within an iPhone®, iPad® or iPod touch®
To view our full newsletter and upcoming events in the auto industry, Click Here.