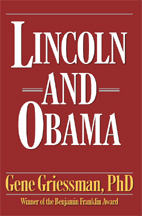 Atlanta, GA (PRWEB) October 04, 2012
One of the fascinating aspects of history are the patterns and coincidences that pop up all the time, and Gene Griessman, author of Lincoln and Obama and an expert on the life of the 16th President of the United States, has found a boat load of interesting similarities between President Obama and President Abraham Lincoln. With an encyclopedic knowledge of Lincoln, coupled with a lifelong study of high-achievers, the author offers a remarkable amount of detail in a book that will intrigue not just for history buffs and political junkies, but for the general reader looking for a fascinating story.
Delving beyond the obvious parallels—both presidents were lawyers, both served in the Illinois legislature and in Congress, and both overtook party favorites to get to the White House— Griessman analyzes how both dealt with the economy, political factions, the media, the military, and the Supreme Court. Even the times and criticisms are similar. Chapters like Remarkable Career Paths, Similarities in Talents and Abilities, Similarities in Temperament contain easy to read bullet-point comparisons which allow one to open Lincoln and Obama anywhere to find a wealth of information.
Interest in President Lincoln is a cottage industry all by itself, and Gene Griessman has been a major part of that scene with books such as Lincoln Speaks To Leaders, The Words Lincoln Lived By, Lessons from Legends, Lincoln's Wisdom and the celebrated training film Lincoln On Communication. Around the time of Lincoln's birthday, he is a desired guest on radio shows and often asked to perform the famous speeches from the man who is widely considered to be one of the greatest Presidents in American history.
Lincoln and Obama gives the reader a handy resource guide for many aspects of two President's separated by150 years and completely different worlds. But while worlds change, the primary aspects of leadership, crisis, politics, economics and human existence remain constant, which is why the study of history is so vital and so utterly fascinating. Gene Griessman brings that love of history, and what makes major leaders tick, in a format that will give people a push towards more historical interest, and that is never a bad development.
Gene Griessman, who has taught at Georgia Tech, Auburn University, NC State University, and William & Mary, and has served as a Fulbright professor abroad, has made a career of studying high achievers. For over a decade he hosted "Up Close" on TBS, the network founded by Ted Turner, interviewing world-renowned celebrities.
Here are a few reviewer and reader comments about Lincoln and Obama by Gene Griessman, Ph.D.
"Thousands have written about Lincoln but few understand him. Gene Griessman understands him. He has plumbed his soul." --Wayne Temple, Lincoln scholar and author of Abraham Lincoln: From Skeptic to Prophet
"This is not a throwaway book of gossip meant to titillate. It is a brilliant weaving of pertinent historical facts of Lincoln and Obama, juxtaposed, in a most readable style."
--Alice O'Neill, syndicated columnist, "Hollywood Behind-the-Scenes"
"One person goes to a symphony concert and hears nuances that the person beside him/her completely misses. Gene Griessman is the Pavarotti of Political observation. He displays a gift for seeing patterns and similarities between two great leaders…"
--Bob Gibson, President Negotiation Resources, Inc.
For Media Interviews Contact Promotion in Motion
Irwin Zucker or Brad Butler
323-461-3921
Or contact Gene Griessman at 404-435-2225
Complimentary PDF of book is available
About Gene Griessman, Ph.D.:
Gene Griessman has taught at major universities in the US and abroad—at William and Mary, North Carolina State University, Auburn University, Tuskegee University, and Georgia Tech. He served as a Fulbright professor at the University of Islamabad, the national graduate university of Pakistan, and as a visiting researcher at the National Agrarian University of Peru and the University of New South Wales in Australia.
He's been listed in "Who's Who In America" and "Who's Who In The World" for years. He is a member of the Television Academy.
His award-winning book "The Achievement Factors" is considered a classic. "Time Tactics Of Very Successful People," published by McGraw-Hill, is in its 31st printing. "The Words Lincoln Lived By," published by Simon & Schuster is in its 18th printing.
He is author of "Lincoln Speaks To Leaders," "Lessons from Legends," "Lincoln's Wisdom;" and the celebrated training film "Lincoln On Communication."