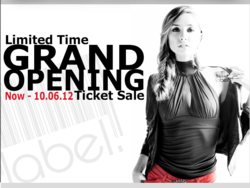 Charlotte, NC (PRWEB) October 04, 2012
Charlotte's most anticipated venue is opening with a grand opening weekend October 12th & 13th. LABEL is offering a special limited time special ticket price for this epic event for a few days only. This grand opening weekend event is in support of LABEL's official charity partner, Amped 4-A-Cure, Inc. with all of Saturday's door proceeds going to support cancer research, early detection and prevention.
Label is proud to feature during its grand opening weekend Far East Movement, Nina Sky, DJ Carnage of the Cataracs and T-Pain.
Just last week we announced our new General Manager Sasha Ebady. Ebady, most recently served as General Manager of The Howard Theatre in Washington DC and BB King's in Times Square, New York, NY. Previously, Ebady worked as General Manager for Morton's Steakhouse in West Palm Beach, FL. Sasha brings over 13+ year's experience in the industry and we are excited to have him be a part of our team at LABEL.
Located just outside of center city in a historic part of Charlotte, NC, The Music Factory, has been blooming into a major music district. "With, LABEL, as the new edition and Sasha Ebady behind the wheel, the area is sure to see incredible success", says Owner Robert Ortiz. LABEL, designed by world renowned club designer Francois Frossard, is set for a Grand Opening Weekend on October, 12th & 13th of 2012. This is without a doubt, expected to make an immediate impact in the nightlife scene as well as the entire Carolina's.