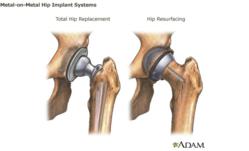 (PRWEB) October 04, 2012
On October 2, 2012, The Lancet published a new study revealing higher failure rates of metal-on-metal hip resurfacing when compared with conventional total hip replacement (THR). Disturbingly, the failure rates were up to six times higher compared with more traditional techniques.
Hip Resurfacing vs. THR
In hip resurfacing the surgeon reshapes the pelvic ball or head (femoral head) and then places a metal cap over the newly shaped head. Then the surgeon places a metal cup on the inside of the pelvic socket or cup (acetabulum), which allows for that joint to function smoothly.
With a THR, the surgeon removes the entire hip joint and replaces it with an artificial joint consisting of a femoral head that is attached to a femoral stem that is drilled into the upper thigh bone (femur), an acetabulum, and a plastic liner that goes between the ball and the socket.
Study Findings
In 55-year-old women, the revision rates were 8.3% for resurfaced hips and only 1.5% for THRs with metal-on-polyethylene implants, according to the study. Meanwhile in 55-year-old men, the revisions rates were 4.1% for resurfaced hips and 1.9% for THRs with metal-on-polyethylene implants.
Ashley Blom, a Bristol University orthopaedic surgery professor who took part in this study, noted that the failure rates in women were unacceptably high and that she and her panel recommended that resurfacing not be undertaken in women. She further noted that due to the higher failure rate in men, preoperative measurement should be used to assess the suitability for a male patient.
THR: Metal-on- Polyethylene vs. THR Metal-on-Metal Controversy
The fact that the subject study involved failure rates of metal-on-polyethylene THR implants is critical because recent studies also reveal that metal-on-metal (MoM) THR implants suffer an ever-increasing failure rate as well.
In February 2011, after receiving numerous reports of increased metal levels in patients' bloodstreams and high failure rates associated with MoM hip implants, the U.S. Food and Drug Administration (FDA) issued a public health communication that it was assessing the safety and effectiveness of such implants.
Then in November 2011, the British Medical Journal (BMJ) revealed evidence of higher rates of hip implant revision associated with metal on metal (MoM) implants compared with traditional metal-on-polyethylene implants.
On March 12, 2012, The Lancet then published another study revealing MoM hip implants failed at an increased rate than other types of hip implants, prompting a ban on all metal-on-metal hip implants. The research, which was based upon the National Joint Registry of England and Wales, found MoM implants failed much more quickly than other types of implants, with a five-year revision rate of 6.2%. This compared with 2.3% for ceramic-on-ceramic implants and 1.7% for metal-on-plastic types.
Some manufacturers of MoM implants have already recalled certain devices and are already the subject of a number of lawsuits. Manufacturers include DePuy Orthopaedics, Stryker, Zimmer, Biomet and Wright Medical Technology.
Ennis & Ennis continues to offer free, nationwide, confidential consultations to anyone who has a metal-on-metal hip replacement system by calling toll free 1-800-856-6405 or by going to http://www.ennislaw.com and completing an online case evaluation form.
Ennis & Ennis, P.A. is a nationwide law firm with offices in Ft. Lauderdale, Miami and Washington D.C. that concentrates its practice in mass torts and represents individuals against pharmaceutical companies and medical device makers.
Ennis & Ennis, P.A. has been representing clients individually since 1986 and has recovered over $100 million in settlements for its clients.
Ennis & Ennis, P.A. is also investigating cases involving Accutane, Actos, Avandia, Fosamax, Pradaxa, Plavix, Paxil/Birth Defect, Zoloft/Birth Defect, Prozac/Birth Defect, Depuy Hip Recall, Zimmer Hip Recall, Wright Conserve Hip, Wright Profemur Hip, all Metal-on-Metal Hips, Medtronic Infuse Bone Graft, GranuFlo and NaturaLyte Dialysis Concentrates, Tekturna, Reglan, Yaz, Yasmin and Ocella Birth Control Pills.
Remember the law limits the time in which a claim can be filed, so don't wait to explore your legal rights. Call today toll free 1-800-856-6405 or visit http://www.ennislaw.com.