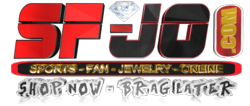 Sports Fan Jewelry Online reopens their sports catalog.
Paradise, Tx (PRWEB) October 09, 2012
On August 1, 2012, Sports Fan Jewelry Online (SF-JO) introduce itself and invited guests to visit their website at http://www.sportsfanjewelryonline.com. Shortly after introducing themselves, SF-JO's technical support team scheduled major background changes to their website that required SF-JO to temporarily close their online sports fan shop. The technical department has made changes to the areas that would affect customers and SF-JO has now reopened its online catalog to customers
.
SF-JO appreciates its customers and followers and apologizes for any inconvenience this temporary closure may have caused.
SF-JO is a new online catalog company that caters to sports fans who want to support their favorite sports teams. While its catalog was closed, the SF-JO team added many new products to its catalog increasing its product offerings to over 15,000 products. At SF-JO, sports fans can purchase licensed sports jewelry in support of their favorite NCAA, NFL, NBA, MLB, and NHL team. In the near future, SF-JO will add a new catalog of non-licensed sports jewelry. Currently, SF-JO has non-licensed jewelry supporting the military and public service categories and fans can purchase these licensed team items from the SF-JO online catalog:
Watches, ID Holders, Purses, Computer Sleeves, Necklaces, Belt Buckles, Bags, I Phone Holders, Earrings, Money Clips, Wallets, Golfing Supplies, Bracelets, Charms, Umbrellas, Ice Coolers, Rings, Pins, Coin Products, Lanyards, Key Chains, Toe Rings, Jewelry Boxes, Diaper Bags, Seat Cushions, Can Holders, Backpacks and Lunch Boxes
The SF-JO team is ready to serve all fans. They carry accessories and sports jewelry for women and men and they have products sized for adult and youth sports fans.
SF-JO catalogs are available online at http://www.sportsfanjewelryonline.com . Fans can shop for sports jewelry 24 hours a day and discounts are provided to return customers. Interested customers can sign up for the SF-JO newsletter and can be notified when new sports jewelry products are added to inventory.