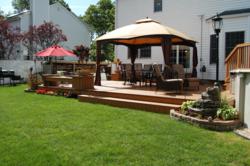 A Facebook survey found that 47 percent of respondents would like to tear out their decks and build bigger and better.
Upper Saddle River, NJ (PRWEB) October 03, 2012
With deck season drawing to a close in many parts of the country, what changes are popular with homeowners for 2013? A Facebook survey with 2,000 respondents found that the number one answer, at 47%, was to tear out the current deck and start over.
The survey found that alterations that improve both beauty and functionality were the most popular choices. Forty-three percent of respondents would like to add lighting. Improving the landscaping and adding built-ins, like benches and storage, tied at 41% each. Rounding out the top five improvements, at 40%, was the choice to enlarge an existing deck.
Outdoor kitchens have been a popular project, but only 28% of those taking the survey would spend their dollars here – possibly underscoring a shift toward practicality over luxury. Other possible ways to spend the windfall were to get new furniture (34%), change to composite or exotic wood (29%), repair damaged wood (25%), change the color (24%) and add a water feature.
The Thompson's Water Seal brand (http://www.thompsonswaterseal.com) is offering a chance to win $15,000 toward a dream deck, but that dream is also close to ending. The Deck Of Your Dreams Sweepstakes ends Saturday, October 6. The winner will receive $10,000 to build or renovate a deck, plus Plow & Hearth (http://www.plowhearth.com) will provide a $5,000 shopping spree of its products to pick the perfect "deck-cessories." Additionally, the winner will receive expert guidance from HGTV star Jeff Wilson throughout the design and building process, including an in-person visit to the winner's home.
Entries to the 2012 Deck of Your Dreams Sweepstakes can be submitted at the company's web site (http://www.thompsonswaterseal.com) until 11:59 p.m. Saturday night.