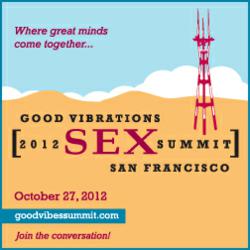 We are eager to see how this phenomenal line-up of thinkers, writers, and activists will contextualize the role of sexuality in contemporary culture and politics, especially given the pre-election relevance of these issues.
San Francisco, CA (PRWEB) October 04, 2012
From the battle over reproductive freedom to the Fifty Shades of Grey phenomenon, sex is dominating politics and headlines and it is keenly felt in this election year. Pioneering adult retailer Good Vibrations has gathered the brightest minds to explore our sexual state of the union at the Sex Summit on October 27th in San Francisco. Featuring an all-star line-up of authors, journalists, academics and pop culture commentators, this day-long conference will unpack the many issues and implications in sex and the media, health, pop culture and politics.
Keynote speakers include esteemed author and research scientist Dr. Debby Herbenick, award-winning journalist Brian Alexander, and sex therapist, author and lecturer Dr. Marty Klein, all of whom bring their extensive professional experience and personal perspectives to bear on the themes of the day. Four panels will delve deep into four features of sex in society.
Panel 1 "Regulating Pleasure: Sex, Politics & Censorship"
Sex is regarded differently from other elements of life and is arguably regulated more than anything else, whether it's restrictions on sex education, limited definitions of relationships, censorship of sexual images, laws against certain kinds of sexual expression, or circumscribed civil liberties. The opening panel will explore some of the causes and effects of this social bias, including trends in censorship and sexual politics, and how some people are bringing a more sex-positive slant to this anti-sex playing field. Panelists include Marty Klein, Maggie Mayhem, Judith Levine, Carmen Vázquez, and moderator Dr. Charlie Glickman
Panel 2 "Outspoken/Unsaid: Sex & Media"
How does the use of sex to sell products affect sexual attitudes? When movies and TV become substitutes for sex education, what happens to our relationships? Why does porn get blamed for becoming more explicit, while sexy images elsewhere get a pass? Our media experts will explore these and other questions and discuss what they see happening on our screens and in our publications. Panelists include Brian Alexander, Dr. Mireille Miller-Young, Chauntelle Tibbals, Jaclyn Friedman, and moderator Abiola Abrams.
Panel 3 "Pills, Profits & Pleasures: Sexual Health & Pharmaceuticals"
The increase in pharmaceutical and medical treatments for sexual concerns has shifted the definition of "sexual health" even further towards a performance model. But for all of the challenges that sexual medicine creates, it also can have the potential to change lives and improve sexual experiences. This panel will explore how our sexual lives are shaped by the medicalization of the erotic body and the workings of the medical industry, what benefits and challenges medical science can offer, and how alternative perspectives can contextualize the pharmacological point of view. Panelists include Dr. Debby Herbenick, Heather Corinna, Liz Canner, Yoseñio V. Lewis and moderator Dr. Carol Queen.
Panel 4 "Sexual Stargazing: Sex & Pop Culture"
Cultural attitudes about sex are changing faster than ever before and popular culture, fueled by technological changes, help create these shifts. This panel asks, what is it about celebrities that makes us so interested in their sex lives? Do we really want them to serve as role models? How can we use the contemporary folkways of mass culture to create different representations of sex? Panelists include Tracy Clark-Flory, Lynn Comella, Abiola Abrams, Emily Morse, and moderator Reid Mihalko
Attendees can continue the conversation and enjoy a bird's-eye view of San Francisco at the post-conference hosted cocktail reception in The View bar and lounge, upstairs from 6-9pm.
Dr. Carol Queen, Good Vibrations' Staff Sexologist and Sex Summit co-curator says, "We are eager to see how this phenomenal line-up of thinkers, writers, and activists will contextualize the role of sexuality in contemporary culture and politics, especially given the pre-election relevance of these issues. Sexuality is a major component of key political issues, and this country needs all the incisive analysis it can get."
The Sex Summit is part of a fun and festive weekend of sex-positivity, starting with the "QUICKIES," Good Vibrations' Indie Erotic Short Film Competition and party at the Castro Theatre on Friday, October 26th. Hosted by Peaches Christ and Dr. Carol Queen, independent filmmakers from around the world present their entertaining and provocative short films in this alternate forum for a broader exploration of "erotic cinema." A ticket to the Quickies is included in the Sex Summit admission, so attendees can enjoy the best of both worlds – from entertaining cinema to thought-provoking academia.
Details and Sponsors
For event details, presenter bios, tickets, hotel reservation, please visit http://goodvibessexsummit.com. Follow the event on twitter at #sexsummit. Good Vibrations would like to thank the following sponsors for making the Sex Summit possible: the conference and reception is co-presented by We-Vibe and sponsored by Aneros, Glyde Condoms, Trojan Vibrations, Blossom Organics, Vibratex, the Museum of Sex and the Center for Sex and Culture.
About Good Vibrations
Good Vibrations is the San Francisco-based retailer trusted for more than three decades to provide a comfortable, safe environment for finding sex-positive products and educational materials to enhance one's sex life. Good Vibrations offers its products through its retail stores and website: http://www.goodvibes.com.
##