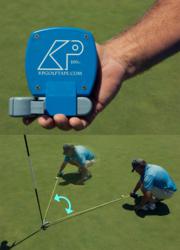 "My golf buddies love to play closest to the pin. When I got KP Golf tape and brought it out the first time we were able to see exactly how far we were and accurately know. John P., 2 hcp
(PRWEB) October 09, 2012
The KP Golf Tape shows exactly who is closest to the pin and was made to create a standard for which all golf balls are measured from the cup. It is simple to use and is self explanatory. It really is the perfect way to measure "closest to the pin", whether in a tournament or just having a friendly wager with some golf buddies. It is also a great way for individuals to set up putting drills when on the practice green.
It comes in both 50' and 100' lengths for less than $50 per tape. The 100 foot tape is a perfect way to measure who is "closest to the pin" in all tournaments. It comes 100 feet because if a measurement has not been recorded and someone hits it on the green even from 100 feet from the pin, they will want to measure it. The 50 foot tape is made with the individual golfer in mind. It can be used for setting up practice drills on the putting green such as a circle drill or distance drill providing a straight line to the cup. It can also be used out on the course to measure how close approach shots are to the hole.
"My golf buddies love to play closest to the pin. We use to try and eye ball it but some were too close to call." said John P., 2 hcp "When I got KP Golf tape and brought it out the first time we were able to see exactly how far we were and accurately know who was the closest. We use it almost every time we play a round now. "
This specially designed golf measuring tape and clip holds the steel tape above the edge of the cup so no damage can occur to the playing surface, whereas a regular tape measure hooks to the hole and damages the edge of the cup. It will fit on any flag stick and can rotate 360 degrees making it easy for anyone to use.
KP Golf Tape gives a professional look to tournaments, golf course and may very well provide bragging rights for the closest to the pin the rest of the round.
For more information or questions please visit http://www.kpgolftape.com or call at (888) 502-6116.