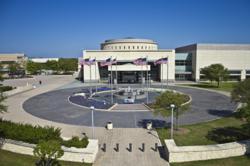 College Station, Texas (PRWEB) October 03, 2012
Beginners and experienced researchers are invited to find out who you are at a free Genealogy Workshop Oct. 11 from 1-5 p.m. at the George Bush Presidential Library and Museum at Texas A&M University.
The keynote speaker is Bennett Greenspan, the founder, president and CEO of Family Tree DNA, the largest DNA database in the world and a former official sponsor of NBC's "Who Do You Think You Are?" program.
The workshop lectures will show how to use DNA information to connect with your ancestors, as well as living relatives, and how new advances can allow you to leave your own imprint for future generations.
For more information contact Deborah Wheeler at (979) 691-4039, or register free online at bushgenealogyworkshop.eventbrite.com.
The Genealogy Workshop is presented in conjunction with the "Genome: The Secret of How Life Works" exhibit on display in the Bush Library and Museum's Ansary Gallery of American History. Designed for all ages, the exhibit explores the nature and impact of advances in genome research through visually-rich environments, interactives, artifacts and multi-media presentations.
"Genome: The Secret of How Life Works" is sponsored by Texas A&M AgriLife Research and presented in cooperation with Texas A&M University Whole Systems Genomics Initiative, College of Agriculture and Life Sciences, Department of Animal Science, and media partner KBTX Media. For more information about the exhibit go to bushlibrary.tamu.edu/genome.
The George Bush Presidential Library and Museum at Texas A&M University is part of the National Archives and Records Administration's Presidential Libraries network. The Bush Library and Museum preserves and makes available the records and artifacts of George H.W. Bush, 41st President of the United States. We promote civic literacy and increased historical understanding of our national experience, and foster a community of public service and volunteerism by offering rich educational and public programs, original museum exhibits and access to our archival holdings. For more information visit the Bush Library and Museum website at bushlibrary.tamu.edu.
###