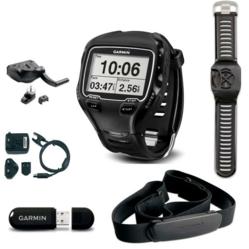 For women the picture changes because fit becomes a much more serious consideration
Bozeman, MT (PRWEB) October 03, 2012
Ahead of next Saturday's World Ironman Championship in Kona the Heart Rate Watch Company blog has created a review of all the top triathlon watches for men and women.
"The World Ironman Championship is the granddaddy of them all so it seemed like a good time to review our testing notes for 2012 and declare our favorites", says Rusty Squire, President of the Heart Rate Watch Company.
Men's #1 - Garmin Forerunner 910XT Triathlon Bundle - This was just released and adds a cadence sensor and quick release strap to the triathlon watch that is already the most popular on the market. It measures everything, power, speed, distance, heart rate, elevations, inclination and every possible metric. The watch size does not work for many women.
Men's #2 - Polar RCX5 GPS - with the advent of a clip holder the small 1.5 ounce GPS sensor rides easily on running shorts or in bike jersey pockets. It gets heart rate in the water where no other watch does. Speed, distance maps and everything Garmin delivers except power biking and a barometric altimeter.
"For women the picture changes because fit becomes a much more serious consideration", says Squire. He adds, "Most women seem to like the Polar RCX5 GPS better because the watch is so much smaller and weighs half as much".
Women's #1 - Polar RCX5 GPS - weighing in a 1.7 ounces the Polar RCX5 is more than 50% lighter and has a nice big screen. Women seem to like it better and as Heart Rate Watch Company tester John Yarington says, "I really like external GPS because the watches feel better".
Women's #2 - Polar RCX3 GPS - you give up heart rate in the water but you can still wear the strap and the watch from start to finish. It is even smaller still weighing only 1.2 ounces and the band is much smaller. Plus, the Polar RCX3 GPS gets all the heart rate data, speed and distance for the bike and run.
These watches were tested extensively by the Heart Rate Watch Company throughout 2012.