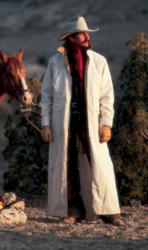 We're going to celebrate our 30 successful years with as many folks as possible
Las Cruces, NM (PRWEB) October 10, 2012
Schaefer Ranchwear, one of the last American made clothing companies in the U.S. is celebrating its 30th Anniversary over the Holiday season with a full gamut of weekly promotions, giveaways, new product introductions and a shopping spree.
Thirty years ago, Schaefer started out with two styles of outerwear; a full-length duster and mid-thigh drifter made out of canvas duck cloth mainstays in the American made collection to this day. The original duster in the early eighties was a garment which had crossed over into the fashion market for several years giving Schaefer its start as an iconic American made brand name. "In those days, our most of the production came from a sewing plant on the Arapahoe Indian reservation in Riverton, Wyoming. In fact, each garment featured a label inside stating Made with Pride by the Arapahoe Indian Tribe", reminisces Rick Grant President of Schaefer Ranchwear. "We've come a long way since then; now the entire product line of over 80 styles comprised of vests, shirts, outerwear and jeans is produced in our family-owned factory in El Paso, Texas."
"We're going to celebrate our 30 successful years with as many folks as possible",according to Grant. "We're going to have some fun with the celebration and give back to our loyal customers. I've set aside product which we are going to embroider with our logo and new sales mark "Proudly American Since 1982" for weekly giveaways, set up several big Holiday saving promotions, add some exciting new products for the Holiday and offer a $1,000 Shopping Spree to one lucky winner." The $1,000 Ranchwear Giveaway will be promoted via SchaeferRanchwear.com, mail order catalog, social media and a major promotion with Western Horseman Magazine, the western industry's leading equine and lifestyle publication.
The new Holiday product expansion will include several Herringbone wool styles for women including vests, blazers and jackets in limited Holiday production. The wool featured in the collection is 100% American made merino wool offered in two color ways; Chocolate and Charcoal Herringbone. In addition to the new ladies styles, Schaefer will also introduce their new Arena Jacket produced from 24 oz Canadian Melton wool in several colors. The Arena will feature a full zip-up storm collar, double pocket front and then detailed with front and back single needle western yokes.
Grant attributes their success not only to their made in America roots, but their commitment to quality and timeless, traditional styling; "They go hand in hand, our customers expect the best and that's what they get. There's not a day that goes by, where a customer doesn't write and call us to thank us for our American quality," according to Grant. Technology doesn't hurt either. Schaefer maintains a state of the art web site SchaeferRanchwear.com with lifestyle video links, monthly e-mail specials and distributes an annual catalog to its customers capturing lifestyle images of working cowboys and outdoorsman wearing Schaefer products throughout the Rocky Mountain region.
Schaefer Ranchwear is one of the last brand name manufacturers who design and produce premium Ranchwear and Outdoor clothing exclusively in America.
To learn more about Schaefer, visit http://www.SchaeferRanchwear.com
Media Contact:
Rick Grant
575-524-6764
http://www.SchaeferRanchwear.com