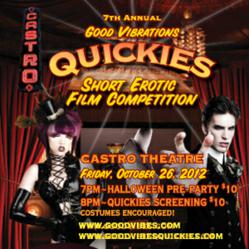 Any way you like it -- funny, serious, explicit, romantic, straight, queer, kinky, animated, or something else entirely -- you'll be glowing after this quick and frisky romp.
San Francisco, CA (PRWEB) October 08, 2012
Independent filmmakers from around the world will show their stuff in 7 minutes or less at Good Vibrations' 7th annual QUICKIES Short Erotic Film Competition on Friday, October 26th at the Castro Theatre. Indie porn queen, director and star Joanna Angel will be in attendance, sharing her film "Fuckenstein," an XXX-rated homage to everyone's favorite classic horror flick featuring a monster with monstrous proportions. Guests are invited to meet her and other filmmakers at the pre-party in the Castro mezzanine at this fun and irreverent celebration of sexy cinema.
Follow two horny cyclists on a high-speed chase through the streets of Berlin in "Das Randy Radfahrers, " navigate the politics of a birthday three-way in "Reverse Cowgirl," delight in the simple romance between a man and his blow-up doll in "Plastic Love," and see our hero take it shaken and stirred in "James Bondage in Double O Sexy." With a dozen entries in this year's competition, there's something for everyone. Awarded SF Weekly's "Best Place to See Your (Talented and Attractive) Neighbors Naked," this year's finalists include neighbors from Australia, Germany, Canada, Israel, and the United States.
Saucy Indie film queen and drag celebrity extraordinaire, Peaches Christ and Good Vibrations' own Staff Sexologist Dr. Carol Queen start the night with a Halloween pre-party in the mezzanine where filmgoers warm up for a night of sexy cinema with spooky tunes by the Cryptic Quartet, gory burlesque by the Can-Cannibals, cold cocktails, tasty bites, and sexy give-aways. Then it's onto the erotic short film competition where drag divas Lady Bear and Hugz Bunny join Dr. Queen and Peaches Christ to present the films with a balance of irreverent humor and sexological insight. The audience decides who gave it best, and the film with the most applause wins $1,500.
Good Vibrations' film festival producer Camilla Lombard explains: "Any way you like it -- funny, serious, explicit, romantic, straight, queer, kinky, animated, or something else entirely -- you'll be glowing after this quick and frisky romp. Creativity, originality, and humor come together for an outrageous night that everyone can enjoy."
Sponsors & Partners:
Good Vibrations would like to thank and acknowledge the following sponsors and partners for their friendship and support: LELO, Stockroom, Kheper Games Inc., Leather Etc., Vixen Creations, Twin Peaks Tavern, San Francisco Bay Guardian, East Bay Express, Bay Area Reporter, XBIZ, San Francisco Bay Times, Mix, Lexington, the Phoenix Hotel, Wet, Speakeasy Beer, Hot Cookie, The Sausage Factory, Evolution Fresh Juice, Good Releasing, and the Center for Sex and Culture,.
Quickies: http://www.goodvibesquickies.com
View Quickies finalists: http://www.goodvibesquickies.com/films
Press Downloads: http://www.goodvibesquickies.com/media
Social: Say hello on our Facebook page! Follow the event on Twitter! #gvquickies
Tickets: http://www.brownpapertickets.com/event/239042
Continue your "super sex weekend" the following day with Good Vibrations' first annual Sex Summit, a dynamic conference on America's sexual state of the union with a series of panels and keynote presentations by esteemed author and research scientist Debby Herbenick Ph.D, award-winning journalist Brian Alexander, sex therapist and lecturer Dr. Marty Klein and more. For event details, presenter bios, tickets, and hotel reservations, visit http://goodvibessexsummit.com.
About Good Vibrations
Good Vibrations is the San Francisco-based retailer trusted for more than three decades to provide a comfortable, safe environment for finding sex-positive products and educational materials to enhance one's sex life. Good Vibrations offers products through its website (http://www.goodvibes.com) and its retail stores.
###