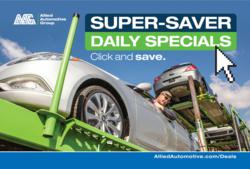 These deals move fast and customers don't want to wait, so the program has to be efficient.
Atlanta, Ga. (PRWEB) October 04, 2012
Following months of coordination and planning, Allied Automotive Group announces a bold initiative that gives auto shippers daily online access to numerous North American routes at reduced, all-inclusive rates.
The "Super-Saver Daily Specials" program is a first in the industry, with routes posted dynamically on the AlliedAutomotive.com website each morning and an e-commerce platform allowing transactions to be completed online.
"We launched our Super-Saver program because too often our drivers return to their home terminals empty," says Allied VP Roger Panella. "So we decided to make these routes available to customers at significantly lower rates, and post the deals on our website every day. We also like that this is a green initiative, so we're not logging so many empty miles."
Daily Deals and All-Inclusive Pricing
Make no mistake: This program requires intense daily coordination between Allied's terminals and drivers, its Central Dispatch operation, and the IT pros who manage specials dynamically online. At the heart of the program is a pricing strategy that assures all deals are consistently "super," with all-inclusive rates that cover taxes, fuel costs and all transportation expenses.
"With transport specials offered daily, customers must decide on a deal quickly before it's gone," continues Panella. "All-inclusive pricing lets customers know exactly what they'll pay. They just click a route on our Super-Saver page, select the number of vehicles to ship, and make the reservation right there. Then an Allied rep calls them immediately to confirm and arrange shipping that same day. These deals move fast and customers don't want to wait, so the program has to be efficient."
Updated Often: the Super-Saver Website Page
The hub of the initiative is the Allied Super-Saver Daily Specials web page where customers review the latest routes and pricing. The page is organized by U.S. states and Canadian provinces, with that day's route specials assembled efficiently by city origins and destinations. Customers can complete a transaction entirely online, or they can call toll-free to secure the reservation.
Since each route and rig is different, specials are displayed for most any vehicle classification: passenger cars, SUVs/light trucks, medium-duty trucks, specialty vehicles and more. When a route is selected, pricing is calculated automatically on the page's "Make a Reservation" form, based on number of vehicles to move. Storage specials are also available, and visitors can sign up to be notified periodically of upcoming specials.
The Super-Saver program launches with a planned expansion of the number of routes offered, and the Allied team welcomes customer input and requests for new routes.
"We've got a unique offering here that can really save customers some money," says Panella. "And we've dedicated the resources it takes to keep the program strong. Plus, customers can be confident that their vehicles are being moved by the best in the business."
For more information, please visit AlliedAutomotive.com/Deals.
About Allied Automotive Group
AAG owns and operates the largest and most diverse fleet in the industry, with an extensive network that spans the North American continent. The company was founded nearly 80 years ago and today offers not only the capacity to meet increasing manufacturer volumes – but the infrastructure, the workforce, the fleet diversity and the experience to lead the industry.