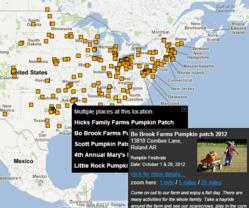 We strive to ensure that no matter where you live, you can find a pumpkin festival to visit.
Reston, VA (PRWEB) October 10, 2012
MapMuse today announced the release of its 2012 Pumpkin Festival Locator, an interactive online guide to visiting pumpkin festivals and giant pumpkin weigh-offs this fall season. Featuring over 220 festivals across the USA, the free map-based application is the largest and most comprehensive pumpkin event locator of its type on the Web.
"Like any good event guide, the Pumpkin Festival Locator fulfills the basic need of connecting festivals with attendees," says MapMuse owner Mike Pilon. "We strive to ensure that no matter where you live, you can find a pumpkin festival to visit." For those who aren't familiar with the concept, pumpkin festivals are family-friendly fairs that exhibit the cream of the local pumpkin crop. Attendees can buy pumpkins to convert into jack-o'-lanterns, stuff themselves on pumpkin pie, observe giant pumpkin weigh-offs, partake in live demonstrations, and enjoy good old fashioned fun and live music. "Not a bad way to spend a day with your kids," suggests Pilon.
Each Pumpkin Festival is given a dedicated profile page that can be accessed by clicking its icon on the interactive map. The profile page contains pertinent information such as contact details, hours, physical location, visiting tips, photos, and user reviews. Although all data is manually procured and verified by MapMuse, festival organizers and in-the-know attendees are encouraged to update event details as they change. "We try to cover all our bases," says Pilon, "but with this many festivals, it can't hurt to crowdsource a bit."
The Pumpkin Festival Locator can be accessed free-of-charge at mapmuse.com/pumpkins. Users may also be interested in similar fall season event locators, including Apple Festivals and Oktoberfest in America.
MapMuse is a small internet and app development company based out of Reston, Virginia. It bills itself as the best site to "find places to live, learn, work, and play," and has created thousands of brand and interest locator maps to reflect this mantra. For more information on MapMuse, please refer to their homepage.