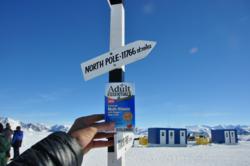 We're thrilled to have Adult Essentials on board with us again. As I learned in Antarctica, the nutritional and mental boost that you get from the fruity gummies is priceless.
Burlington, Ontario (PRWEB) October 04, 2012
Standing on a razor sharp ridge with sheer vertical drops on either side in minus 45 degree conditions doesn't seem like a lifetime goal for many, but for wilderness adventurer and Adult Essentials explorer Scott Kress, it was the end of a 12 year journey, one that took him to the highest peaks on each of the 7 continents.
His was the journey to the top of the seven summits. From Mount Everest at 29,035 feet to the frozen peaks of Mount Vinson in Antarctica, the seven Summits are the Holy Grail of mountaineering. Each peak posing its own unique set of challenges that tests the human limits.
Kress is the 18th Canadian and one of an elite group of less than 300 climbers to successfully make it to the top of 7 peaks and Adult Essentials vitamins was a proud supporter of his journey, providing funding and a supply of adult gummy vitamins to keep him healthy on his expedition.
In his newly released book "Learning in Thin Air," Kress shares the life lessons he learned on the journey to the top of the world where he encountered the most extreme conditions found anywhere on earth. Besides the extreme heights, Kress had to contend with extreme temperatures, very technical terrain and the always-present threat of extreme weather.
"There are a myriad of hazards on all of the seven summits: high altitude sickness, storms, injury from a fall, avalanche, extreme temperatures and more. The smart climber can prepare for and anticipate most of the dangers, but they can never all be eliminated," says Kress who likens going into the high mountains to playing Russian roulette.
"Everest, Denali, Elbrus and Vinson are all snow covered and can produce severe snow storms at any time of the year. The terrain ranges from gentle snowfields to steep solid ice. One must be a well-rounded climber to successfully deal with all the potential challenges presented on these mountains."
The physical and mental fitness required to embark on such a journey is enormous. But more importantly, it's the drive, the focus and emotional intelligence that set apart those who succeed from those who merely attempt. Often failure is the result of a breakdown of leadership, teamwork or personal motivation.
"Many of these expeditions are so long that you actually lose fitness while you are there so you need to go into it as fit as possible," says Kress who focuses on endurance and cardio. "Mental preparation is critical because you need to be able to perform at a high level when you are hungry, tired, and scared. You need to understand how your mind will react to this kind of pressure."
Once again, Scott is setting out on a new adventure. This October 7th Scott Kress joins 12 injured and retired Canadian soldiers up to Everest Base Camp and Island Peak in support of wounded and ill soldiers. The True Patriot Love Soldiers to the Summit Expedition will be filmed as part of a major primetime CBC documentary, March to the Top, airing nationwide on January 27th 2013.
"We're thrilled to have Adult Essentials on board with us again. As I learned in Antarctica, the nutritional and mental boost that you get from the fruity gummies is priceless," says Kress who discovered that his supply of gummy vitamins was the only thing that didn't freeze solid in the extreme cold.
"Once again, I will be taking my gummies with me every step of the way and sharing them with my team. This is part of my success strategy."
Watch the progress of the True Patriot Love Expedition on the Adult Essentials gummy vitamin blog as Scott, once again, reports from Everest.