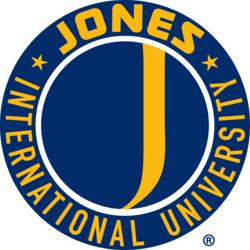 Denver, CO (PRWEB) October 04, 2012
Jones International University® (JIU®) today announced the renewal of the Educator Scholarship Program for Douglas County Educational Foundation (DCEF). This partnership provides all employees in the Douglas County School District (DCSD) access to scholarship options to use towards master and doctoral degrees in education and business fields of study.
The initial scholarship program was introduced in 2009, when JIU launched a partnership with DCEF to offer up to $1,000,000 in scholarships to over 100 DCSD employees. The program targets individuals who have the desire to advance their careers, as well as complete continuing education requirements. To date the program has successfully supported over 150 Douglas County employees with scholarship funding to use towards their advanced degrees.
"The flexibility afforded by an online degree program allows DCSD teachers the opportunity to continue their educational journey while maintaining focus on their classrooms," stated JIU Chancellor Dr. Milt Goldberg. "As DCSD teachers and staff progress towards their masters and doctoral degrees, they will procure a broader skill set to affect positive change in the DCSD students' lives."
DCEF was created in June of 1990 to develop private resources to enrich education within Douglas County schools for the fulfillment of lifelong learning experiences of students, citizens and community. The Foundation seeks opportunities to engage the community and direct support where appropriate towards facilitating learner development through enhanced educational activities for all ages within the community; supporting the professional growth of teaching by encouraging new and creative ideas for delivering education; and promoting school and community partnerships by encouraging individuals and organizations to share resources. The DCEF is a non-profit 501(c)(3) organization.
Interested candidates can learn more about this educational opportunity by visiting http://dc.jiu.edu. Qualified individuals should submit a statement of interest to the DCEF at http://schools.dcsdk12.org/dcef. For further information, please feel free to call the DCEF offices at 303.387.0505.
# # #
About Jones International University®, Ltd. (JIU®)
As the pioneer in online education, Jones International University, offers an unparalleled online educational experience that provides essential tools and strategies for career starters, career changers, and career advancers around the globe. JIU offers an array of online undergraduate, graduate, and doctoral degrees and professional certificate programs in the fields of business administration, education, and business communication and employs some of the greatest minds from many of the world's leading universities. Visit http://www.jiu.edu for more information.