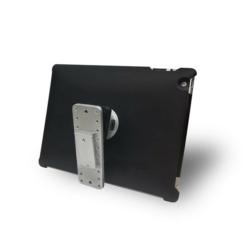 "The iPad is an important tool being used by commercial, corporate & business airplane pilots," said Charles Schneider, CEO of MyGoFlight. "We designed our mounts to be positioned in a place familiar to these pilots."
Denver, Coloardo (PRWEB) October 04, 2012
Today MyGoFlight, a company focused on the iPad In Motion™ for aviators, announced new iPad Jet Mount Kits. The Kits for jets and turbo prop airplanes can be obtained online from the company at http://www.mygoflight.com/jet-mounts/ or at one of the company's retailers.
The mounts attach to the yoke and are available for Gulfstream, Boeing, LearJet, Beech Jets, TBM, and Pilatus airplanes. These mounts are not permanent, do not require tools to install, which means that they do not require an STC for their use.
The Mount: Easily installed by pilot, adjustable, lightweight machined aluminum. Easily allows the iPad to rotate and tilt. Rotation allows viewing approach plates and airport diagrams in portrait mode, enroute charts in landscape.
The Case: High quality, mountable everyday case, compatible with the Apple Smart Cover. The iPad is always protected.
For more information on iPad Jet Mounts or to have a model developed for your airplane, send an email to info(at)mygoflight(dot)com or call 303.364.7400.
About MyGoFlight
MyGoFlight provides products for the iPad In Motion™ for aviators, boaters and people with an active iPad lifestyle. The company's goal is to make products for the demanding and exacting needs of pilots and the cockpit environment and make them available for all. For more information, visit http://www.MyGoFlight.com.