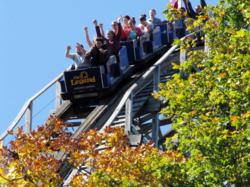 'Halloween's Scariest Thrills' will air on Travel Channel next fall.
Santa Claus, IN (PRWEB) October 05, 2012
As Holiday World opens its first Happy Halloween Weekends event this Saturday, an added "treat" for park guests is the opportunity to appear in a new Travel Channel special.
"Travel Channel is specifically looking for roller coasters with Halloween themes for their 'Halloween's Scariest Thrills' show," says Holiday World President Dan Koch. "They were pretty excited to discover our Raven and Legend wooden coasters both fit the bill."
As part of Happy Halloween Weekends' special activities, visitors to Holiday World are welcome to wear family-friendly costumes. Travel Channel is looking for costumed coaster riders to include in their two-day shoot this weekend and will select featured riders from each day's visitors.
"Halloween's Scariest Thrills" will air on Travel Channel next fall.
This is the third Travel Channel production crew to visit Holiday World this year. Over the summer, the park's Mammoth and Wildebeest water coasters were featured in the network's Xtreme Waterparks series and Voyage took top honors in the "Splintering Speedsters" episode of Insane Coaster Wars.
The Travel Channel is available in nearly 96 million U.S. households.
For more information about Happy Halloween Weekends, visit HolidayWorld.com or call 1-877-Go-Family.