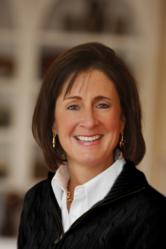 I am so proud of Julie Back's accomplishments and that she is now our top sales person and #4 in the state of Ohio. It was her best sales year ever.
Cincinnati, OH (PRWEB) October 06, 2012
Julie K. Back, Executive Sales Vice President for the Sibcy Cline Hyde Park office, has been named Sibcy Cline's Number 1 Agent (Leader of the Year) for the company's fiscal year of 2011-2012. She was also recognized on October 3, 2012, in Columbus, Ohio by the Ohio Association of Realtors as the Number 4 agent in sales for the state.
Back is a native of Cincinnati, Ohio and began her real estate career with Sibcy Cline Realtors in 1994. She has earned numerous sales honors throughout the years with the company.
Highlights of Back's sales career include Number 1 Agent - Sibcy Cline Realtors, 2012; Number 4 Agent in Ohio, 2012; Number 5 Agent in Ohio, 2011; Number 1 Agent - Sibcy Cline Hyde Park office, 2009-2012; and Sibcy Cline East Regional Leader, 2011.
Back has earned local and state sales honors that include: Cincinnati Area Board of Realtors' Circle of Excellence, 2002-2011; Ohio Association of Realtors' Presidents Sales Club, 2002-2012; and Sibcy Cline Realtors' highest sales achievement, Platinum, 2002-2012.
Back is a graduate of Summit Country Day and the University of Cincinnati. She has volunteered for many years for the Cincinnati Antiques Festival and Kindervelt #50. In the past, Back has also supported the Children's Hospital, Cincinnati Museum Center and Tender Mercies, along with other cultural and philanthropic organizations. In her spare time she enjoys golf and paddle tennis.
Professionally, Back has earned these designations:
Real Estate Technology Specialist
Exclusive Sibcy Cline Realtors, this designation acknowledges those agents who effectively use technology and the Internet with their business plans.
Seniors Real Estate Specialist
This national designation sanctioned by the National Association of Realtors gives real estate agents the tools designed to position them as a senior specialist within their market area.
Sibcy Cline Relocation Specialist
This Sibcy Cline designation is bestowed upon agents who have mastered the complex procedures of the relocation real estate business.
As part of her real estate sales business, Back represents Camden Homes, the largest Cincinnati luxury builder. She is also a high-end residential property specialist and has been quoted in the Cincinnati Business Courier and Enquirer about the Cincinnati housing market.
David Hummel, Vice President/Sales Manager of the Sibcy Cline Hyde Park office says, "It has been my extreme pleasure throughout the years to work with Julie Back. She is always positive and takes the upmost in care with her clients. She is very dedicated to her profession and takes great pride in making sure her clients are satisfied with her service to them."
Rob Sibcy, President of Sibcy Cline Realtors, adds, "I am so proud of Julie Back's accomplishments and that she is now our top sales person and #4 in the state of Ohio. It was her best sales year ever and its great to see her do so well. She is such a firm supporter of the community with her many volunteer projects, and I admire her for taking the time to give back to so many worthy causes."
Back resides in Cincinnati, Ohio in the Village of Indian Hill with her husband, Greg.
Sibcy Cline Realtors is the largest area real estate company for Cincinnati and Dayton, Ohio; Northern Kentucky; and Southeastern Indiana. The company has 1,100 real estate agents and 22 branch office locations. It is a full-service real estate firm with mortgage, relocation, insurance, title and home services divisions.