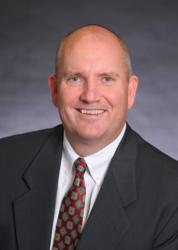 Steve has served our Credit Union admirably for more than 13 years. I am confident in every way that he will lead Generations to further growth and prosperity
San Antonio, TX (PRWEB) October 04, 2012
The Generations Federal Credit Union Board of Directors has announced that Steve Schipull will assume the role of Chief Executive Officer of the 72-year-old financial institution, replacing Tim F. Haegelin who has served as CEO since 1981. Schipull has been with Generations since 1999, most recently holding the position of Chief Financial Officer. Haegelin joined Generations in 1980 as Senior Manager.
"It's never easy to let go of something that you have built and nurtured; whether it's the company itself, or this family of staff and members that you have gathered around you. Yet there comes a time when CEOs must step aside and pass the proverbial torch, allowing for the momentum we have built to grow and develop into the next level," said Haegelin. "Steve has served our Credit Union admirably for more than 13 years. I am confident in every way that he will lead Generations to further growth and prosperity."
As Chief Financial Officer, Schipull was responsible for enterprise-level discussion and decisions involving business vision and strategy, standardization of best practices, and overall profitability for the Credit Union. Prior to joining Generations, Schipull served as Assistant Vice President at Bank of America.
Schipull's dedication to Generations and to the credit union industry was singled out in 2009 when he was awarded the CUES Future Leader Award; and again in 2011 when he was named as the San Antonio Business Journal's Chief Financial Officer of the Year (Service Organization). He will assume the role of CEO in early November.
"I have tremendous respect for Tim's contributions to Generations, to the community and to credit unions as a whole. The legacy of his actions will be felt within our industry for many years to come," said Schipull. "I'm honored to be able to assume this very important role with an institution that has such a strong history of serving as a financial advocate for everyone in our community. I look forward to our continued service to our members, to our growth and to our development."