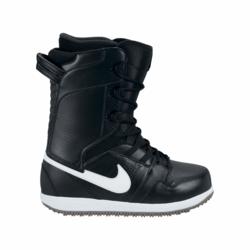 "The experience and know-how of NIKE footwear in a snowboard boot @ an unreal price? Easy."
Annapolis, MD (PRWEB) October 04, 2012
The Nike Vapen is ready to shred, slash, and crush the mountain with a supportive flex that will keep riding strong whether cruising the park, trees, or the pow. With a phylon midsole and outsole with full PU cushioning the black and white Vapen not only performs, but keeps looking fresh while doing it. The heat moldable liner is equipped with webbed lacing for a quick get up and go option, and a warming space blanket strobel to keep feet comfortable. The Nike Vapen is a go to boot for Nike pro riders like Jed Anderson, Justin Bennee, and Austin Smith, but now they are available for the 2013 season at Pure.
The Vapen′s ultra low profile outsole offer great board feel and outstanding grip. The outsoles of Nike Snowboard Boots look cool and ride even better because of the vice grip tread inspired by the Air Force 1 basketball shoe.
Although each boots midsoles vary slightly, these Nike Snowboard Boots have exceptional Phylon midsole cushioning along with individual additions. The Vapen's Polyurethane (PU) heel cushioning is pillow soft and technology makes harsh landings feel soft. For a Cadillac type ride, look no further than at Pure, because these boots are cush!
With lateral and medial structure the Vapen provides carving support and jib functionality to be the best ride at your mountain. The full length internal backstay, neoprene flex notch, and 3D molded tongue in the Vapen give the boot fantastic rebound properties. With uber high end waterproof synthetic leather uppers these Nike Snowboard Boots will keep the little piggies warm and dry.
Nike has dumped more than enough money into R&D and the product of their ideas has been welcomed by the snowboard industry with open arms. Get on that train and check out some Nike Snowboard Boots at Pure Board Shop because the best has yet to come.
Pure Board Shop opened its doors on May of 2005. After co-owning Evolve Board Shops in Annapolis and Bethesda Maryland from 1993 to 2003, Robby Roberts put Pure on the streets a few years later. Its ease of access and parking make it a destination shop for riders and urban street wear fans alike. With their mix of products and variety in skate, snowboard , surf and exclusive street wear and shoe brands Pure's customers extend far beyond their Annapolis location. Pure prides itself on customer service being its number one priority, with product knowledge and having the right product mix a close second. The store and the website feature an ever growing inventory from brands such as Nike SB Dunk, Nike Snowboarding, Travis Rice, Lib Tech, Adidas skateboarding, Vans, Levi's Skateboarding, Diamond, HUF, LRG, Neff, RVCA and The Hundreds, as well as a large selection of Sunglasses and other accessories. The shop also prides itself on having the largest inventory of longboard equipment in the area; with brands like Landyachtz, Rayne, Caliber, Cult, RAD, Abec11 and many more. Pure puts on skateboard jams and video premieres at their local skateboard park as well as sponsors many longboard slide jams and races in the Metro Area.
Contact Pure at 410-267-7669.
Their new website will be up soon!