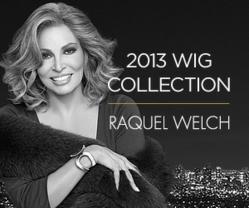 When a woman feels good about her hair she radiates beauty and confidence.
Dallas, Texas (PRWEB) October 03, 2012
The new Raquel Welch 2013 Wig Collection is available at Wigs.com. This collection is composed of seven new wigs and two new shades of color. The brand is committed to offer the best of color, quality, texture and innovative technology with each collection.
The Raquel Welch name is synonymous with glamour. When it comes to her brand, the same can be said for her wig collection. The brand's wigs are known for their superior quality and cutting-edge designs. With the latest trends in mind, Raquel Welch provides women with gorgeous wigs, hairpieces and hair extensions. Style coupled with the latest in wig technology, have allowed the Raquel Welch brand to have some of the highest quality wigs available in the market.
Wigs.com presented this assortment of contemporary and easy-to-wear wigs with exclusive photography and detailed product videos of each wig. Raquel Welch is well known for offering styles in an array of beautiful shades, and that is why Wigs.com displays every style in every color available with their TruColor™ tool.
This new collection ranges from short looks (Intimate, Center Stage, Close Up, Vibrant, Mirage) to glamorous mid-length styles in 100% human hair (Headliner, Soft Focus), as well as some real innovation in versatility. With its forward thinking design, the wig Mirage stands out from the rest. It comes with add-on Velcro pieces that can be attached in a number of ways to create multiple styles.
The Raquel Welch brand is dedicated to deliver exquisite craftsmanship which will ensure its customers the best products in the market. Raquel Welch promises that with her collection of wigs you can "step into the look that you've always wanted."
About Wigs.com:
For more than 15 years Wigs.com has been focused on wearable hair. It has established its name as the best source for alternative hair and related products. In doing so it has separated itself from the competition with the expertise and education offered to the public. Celebrity lines such as Raquel Welch, Daisy Fuentes, Sherri Shepherd, Vivica A. Fox, Eva Gabor and many others have partnered up with Wigs.com because they acknowledge their superior experience and expertise.