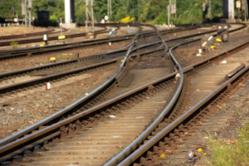 Following an injury train accident, investigators must determine a number of facts.
Newport Beach, CA (PRWEB) October 03, 2012
At least 20 people were injured in a Central California train accident after officials say a big rig truck failed to yield and hit a train. According to an Oct. 1 Associated Press news report, the injury collision occurred when the driver of a tractor-trailer carrying cotton trash struck the train. The impact from the collision caused two passenger cars and the locomotive to derail just south of Hanford, the article states.
Officials tell AP that the crash may have occurred at a high rate of speed because the average speed for Amtrak trains in the area is 70 to 80 mph and the average speed of cross traffic is 55 mph. Passengers suffered minor to moderate injuries including bumps, bruises, scrapes and possibly broken bones. The train was traveling from Oakland to Bakersfield, Amtrak officials told the Associated Press. The report states that officials are still looking into whether the crash was caused by driver error, a malfunctioning arm crossing arm or if there were any other parties or factors involved.
"My thoughts and prayers go out to the victims of this train accident," said John Bisnar, founder of Bisnar | Chase. "It is indeed fortunate, given the nature and circumstances of this incident, that no one was critically injured or killed."
There were a total of 89 train accidents involving Amtrak in 2010, according to the Federal Railroad Administration (FRA). Also, according to the FRA, more than 3,000 train accidents occur leading to death, injury and property damage.
"Following an injury train accident, investigators must determine a number of facts", Bisnar said. "In this case, I trust investigators are examining several pieces of evidence in order to determine who was at fault. Did the driver of the tractor-trailer fail to yield the right of way? Did the crossing arms work properly at the time or was there a malfunctioning arm? Did the train operator make a mistake? These are all important issues that must be examined."
Train accident victims would be well advised to get prompt medical attention and retain the services of an experienced California train accident lawyer who will stay abreast of the official investigation and protect their rights and best interests.
"Getting medical attention and following your doctor's instructions right away is critical," Bisnar says. "It not only helps put victims on the road to recovery, but it also helps create a medical record, which explains precisely what injuries you sustained, what treatment you received and when, and the expenses and losses you incurred as a result."
About Bisnar | Chase
The California truck accident lawyers of Bisnar | Chase represent victims of auto accidents, defective products, dangerous roadways, and many other personal injuries. The firm has been featured on a number of popular media outlets including Fox, NBC, and ABC and has developed a reputation for providing proven results from trusted professionals. Since 1978, Bisnar | Chase has recovered millions of dollars for victims of auto accidents and victims of dangerously designed and/or maintained roadways.
For more information, call 800-561-4846 or visit http://www.california-lawyer-attorney.com for a free consultation.
Sources: http://www.whiotv.com/news/ap/us/at-least-20-injured-in-california-train-crash/nSQ2f/