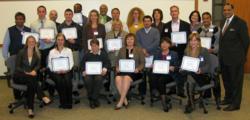 "We are providing our contractors with the tools to prosper and resources that may have once seemed inaccessible." Ken Jones, VP and General Manager of Turner's Mid-Atlantic Region
Richmond, VA (PRWEB) October 04, 2012
Turner Construction Company continues its work educating and assisting in the development of small, disadvantaged and minority contracting companies by offering evening classes once a week at the Richmond Technical Center – South. Each session is led by Turner Construction personnel and professionals from the banking, bonding and accounting fields.
"We are providing our contractors with the tools to prosper and resources that may have once seemed inaccessible," explains Ken Jones, VP and General Manager of Turner's Mid-Atlantic region. "Most of the participants know their trade well, but may lack the knowledge of best business practices that work to enhance the viability of their companies. Thousands of graduates have emerged from our Turner School of Construction Management, and consequently, many of those graduates have become valued, long-term partners as subcontractors with Turner."
Since 1968, Turner Construction Company has provided small, disadvantaged, minority and women-owned businesses across the United States with the opportunity to participate in an 8-week program: The Turner School of Construction Management (TSCM). This program provides contractors with an understanding of the business aspects required to be successful in the successful development of their companies. TSCM is comprehensive and includes courses on subcontractor bonding, financing, marketing, business development, project management, estimating, and risk management.
For information on how to register for this program or a future Turner School of Construction Management, please contact Deniese Medley at dmedley (at) tcco (dot) com.
About Turner Construction Company Mid-Atlantic
Turner has received accolade as a leading builder in the Mid-Atlantic region in diverse fields of healthcare, government, interiors, bio-tech, K-12 education, commercial, hospitality, telecommunications and multi-family residential facilities. Turner's focus on service and responsiveness to client needs has led to the company's consistent growth in the region over the past 30 years.
About Turner Construction Company
Turner is a North America-based, international construction services company. Founded in 1902 in New York City, Turner has 5,200 employees worldwide and works on 1200 projects each year, for an annual construction volume of $8 billion. As the largest general builder in the United States, Turner ranks first or second in the major market segments of the building construction field, including healthcare, education, sports, commercial, and green building. The firm is a subsidiary of HOCHTIEF, a publicly traded company, and one of the world's leading international construction service providers.
For more information please visit http://www.turnerconstruction.com.
About HOCHTIEF
HOCHTIEF is one of the leading international providers of construction-related services. With more than 80,000 employees and a sales volume of EUR 23.28 billion in FY 2011, the company is represented in all the world's major markets. With its core competencies in development, building and operation, the Group delivers services for the entire life cycle of infrastructure projects, real estate and facilities. The focus of the related business activities is on four strategic areas: energy infrastructure, transportation infrastructure, major cities, and resources. With its subsidiary Leighton (HOCHTIEF share around 54 percent), the Group is market leader in Australia. In the USA, the biggest construction market in the world, HOCHTIEF is the No. 1 general builder via its subsidiary Turner and, with Group company Flatiron, ranks among the most important players in the field of transportation infrastructure construction. Because of its engagement for sustainability, HOCHTIEF has been listed in the Dow Jones Sustainability Indexes since 2006.
Further information is available at http://www.hochtief.com/press.