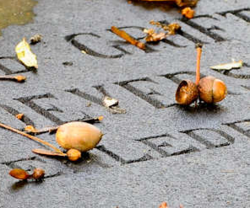 The options of how to make a headstone look and feel are endless
Fargo, N.D. (PRWEB) October 04, 2012
The three most common types of natural stone to use for grave stone monuments are granite, marble, and bronze.
Granite is the material most commonly used for headstones. There are three characteristics that make granite stand out from other natural stone materials. First, it's extremely durable. While slate shatters over time, sandstone deteriorates and marble can stain, granite can make it through years of rain, heat, snow, and ice without losing its original look and texture. No matter what weather elements it is put through, granite will maintain its original form and integrity. Despite its toughness and durability, however, granite is still versatile enough to be etched, sandblasted, polished, and carved, and is therefore open to display almost any texture or design. Its versatility extends through the colors of the natural stone. Granite grave stone monuments are composed of natural elements that are incorporated with minerals that add flecks of green, blue, gray, and even possible streaks of gold. These colors make granite very beautiful, and the variations of stone type add a customizable aspect to the stone.
Marble is also commonly used as the primary natural stone material in headstones. Its attractiveness comes from the various degrees of gray "veining" that can be seen in the stone. The design options on marble are much broader than those made in granite because marble is less dense, making it easier to cave, allowing for more detailed and intricate designs. Marble also has the most color options out of the three types of natural stone. However, using marble as a grave stone also has its disadvantages. Marble can easily become discolored, especially if placed under trees where it can be damaged by the elements.
The third most common material to use in grave stones is bronze. While headstones made completely of bronze aren't common, the material is oftentimes used for flat markers, statuary and as ornamentation in combination with granite and marble. Because of the strength of bronze, it's known as the "eternal metal." The casting process (used for designing grave stone materials) allows intricate details and fine artwork to be incorporated into bronze designs. It also allows for editing the designs etched onto the stone. However, because of its durability bronze can maintain its shape for centuries. Last but not least, bronze is extremely affordable. Not only to buy, but also to design and edit.
While these are the three most common materials used for grave stone memorials, the options of how to make a headstone look and feel are endless. For additional questions about grave stone materials, call Dakota Monument Company, and the experts there can answer any questions you have.
At Dakota Monument Company, our primary business includes the designing, engraving, lettering, installation, distribution and sale of cemetery memorials, commercial and residential signage and other natural stone products.
Founded in 1911, Dakota Monument Company has been under the continuous ownership of the Anderson family and is presently owned and operated by David F. Anderson.
Today Dakota Monument is one of 50 invited members of the American Institute of Commemorative Art. It also belongs to the Monument Builders of North America, Northwest Monument Builders and the Fargo Chamber of Commerce. Dakota Monument Company is an authorized agent for Royal Melrose Granite Company, Cold Spring Granite, Dakota Granite Company, Granit-Bronz and Matthew's Bronze International.