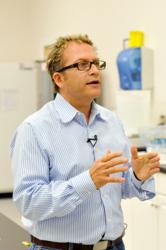 Saint Louis, MO (PRWEB) October 04, 2012
Lee Biosolutions, Inc is an international manufacturer, producer and supplier of high purity biomarkers used in the prediction, prevention and management of progressive disease such as cancers. The St. Louis based biotechnology healthcare firm has developed a unique proprietary process to effectively and efficiently purify and test for noval cancer biomarkers. As a result , LeeBio is now a preferred provider of cancer markers for the IVD and clinical research market.
According to the American Cancer Society, there are over 1.6 million new cases of all cancers in the US alone and 500,000 deaths that will occur this year. Worldwide, it's the leading cause of death. As a result, research is at an all time high to detect progressive diseases earlier. Statistics show there is increased survival rates for many of the major cancers in the United States because we are getting better at identifying the disease earlier and getting treatment earlier.
Lee Biosolutions Scientific Team works day and night to make sure we can supply the latest cancer markers for our world wide diagnostic partners. According to President , Burton Lee, " As a result we have increased our profile of biomarkers to include products such as CA 125 which is the standard tumor marker used to follow women during or after treatment for epithelial ovarian cancer, CA 15-3 which is mainly used to watch patients with breast cancer and alpha-fetoprotein (AFP) that can help diagnose and guide the treatment of liver cancer. We continue to increase supply of CA 19-9 which often is used with patients with pancreatic cancer , CEA tumor marker that helps predict the outlook in patients with colorectal cancer and CA 72-4 which is now used in ovarian, pancreatic cancer and cancers starting in the digestive tract.. Current research has identified CYFRA 21-1 used as a marker for Non-small cell lung cancer and Lee Biosolutions has increased supply of Beta 2 Microglobuiln which is used as a marker for multiple myelomas and chronic lymphocytic leukemia. "All of our products are raw finished proteins that are used in formulations in invitro diagnostic products and researchers .
About Lee BioSolutions, Inc.
Lee BioSolutions is an international producer and supplier of high purity finished human proteins. Headquartered in St. Louis and founded in 2002, the biotechnology healthcare firm serves academic and scientific researchers as well as IVD manufacturers worldwide. Lee BioSolutions produces and processes the raw biomaterials used in drug discovery and development, laboratory equipment calibration, clinical diagnosis and product testing. These include cardiac markers, renal markers, neurological markers and cancer markers. To learn more about Lee BioSolutions visit their website at http://www.leebio.com or their facebook page at https://www.facebook.com/leebio on the charities and volunteer work that they are doing.