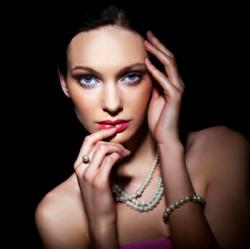 The Chanel suit was remade as a boxy, rounded-sleeve white tweed jacket and short full skirt trimmed in gobstopper-sized pearls.
(PRWEB) October 15, 2012
Today, Rodeo Drive Resale (http://www.shopRDR.com), premier reseller of 100% authentic Louis Vuitton purses, discount Chanel handbags, and Hermes scarves, highlights choice styles from Paris Fashion Week, which took place September 25 through October 3.
SAINT LAURENT PARIS: Since rebranding the iconic Yves Saint Laurent fashion house as Saint Laurent Paris, all eyes have been on the company's creative director, Hedi Slimane, who debuted his first collection at Paris Fashion Week in early October. The Saint Laurent models, fitted with large, floppy hats quickly sashayed up and down the runway, donning pieces that best described as an ode to classic Saint Laurent.
GIVENCHY: This year, Givenchy revisited yesteryear with their collection, which gave a nod to House of Givenchy founder Hubert de Givenchy, who founded the fashion house in 1952. LA Times had this to say: "Black pencil skirts with cloud-like white organza bubble tops. Pants worn with sheer, flyaway tunics anchored to the shoulders with gold clips. Cocktail dresses with single sleeves, soft ruffles at the collars and down the sides. Ankle strap sandals with wood block heels decorated with nails and rivets. Brass necklaces that brought to mind priest collars." Critics were kind to the collection.
CHANEL: "Carefree Coco Chanel as if she were still haunting the cafes of the Riviera today. Nods to 1960s style and bold graphics, but with a modern twist. The most dominant silhouette was a cropped jacket over a miniskirt or dress," The LA Times wrote in its Paris Fashion Week roundup. "The Chanel suit was remade as a boxy, rounded-sleeve white tweed jacket and short full skirt trimmed in gobstopper-sized pearls. A blouson top and bubble skirt came in rainbow confetti boucle tweed. Graphic grid check knit chemises and miniskirts nodded to the 1960s. A cropped denim jacket and denim shirt dress with pearl buttons added a casual air."
HERMES: Popular French fashion house Hermes kept things classy with their collection of stylish silk and travel pieces. Chinapost.com wrote: "Colors too, were diverse in cappuccino, terracotta, sulfur, emerald, cobalt and —the palette's most beautiful — celadon. The flight this season stopped off at the Netherlands and Germany— with tinges of the geometry and graphics of 1930s."
ShopRDR.com loves fashion and invites shoppers to fall in love with the world famous red bottom heels all over again during a special promotion titled, "Christian Louboutin: Red with Envy."
Every shoe lover has their preference, but most agree: When it comes to style and status, few designers have created a niche in the world of upscale fashion like Christian Louboutin, whose high-end heels have become a fashion favorite both for their superior craftsmanship and their signature red-lacquered soles.
During "Christian Louboutin: Red with Envy," luxury enthusiasts can score big savings on an array of Christian Louboutin heels, all of which are backed by a 100% guarantee of authenticity.
ShopRDR.com's latest event is just one of several major promotions from the popular online reseller in the past several weeks, as shopRDR.com held both its Labor Day Weekend sale and its animal print campaign, "Walk On The Wild Side" last month. The successful Labor Day Weekend sale offered savings of up to 25% off all designer clothing and an additional 15% off all designer shoes with free shipping on orders of $200 or more, as well as 10% off all designer handbags, one of fashion's greatest investments, noted shopRDR.com co-founder Raya Jaffer: "Designer handbags typically do not go out of style, which is good because they can last for many years."
Rodeo Drive Resale (shopRDR.com) has built a reputation of providing amazing deals on handbags, clothing and accessories from the top designers of upscale fashion. The company offers a 100% guarantee of authenticity on each item sold, and works daily with a network of clients looking to buy, sell, or for consignment of their luxury goods.
ShopRDR.com loves high-end fashion, and believes finding a high quality, classic piece should be an easy, enjoyable -- and most importantly -- hassle-free shopping experience. For the finest in Louis Vuitton, Chanel, Prada, Gucci, St. John Knits, Christian Louboutin, Tiffany & Co. and more, visit RDR online at http://www.shopRDR.com or call 1-888-697-3725. Also find shopRDR.com's blog at http://blog.shopRDR.com.
Also find shopRDR at:
Blog: blog.shopRDR.com
Facebook: facebook.com/shopRDR
Twitter: twitter.com/shopRDR
YouTube: youtube.com/ shopRDR
Pinterest: pinterest.com/shopRDR
Rodeo Drive Resale (shopRDR.com)
1-888-697-3725
service(at)shopRDR.com