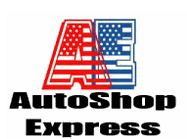 GREEN, OH (PRWEB) October 04, 2012
News this summer that Tom and Ray Magliozzi would end their reign as the Car Talk guys on NPR radio stations had anyone who loves cars or just wants to keep theirs running abuzz with how much the brothers would be missed.
But now that the last live Car Talk broadcast has come and gone, one of the themes that stands out the most is how often the Magliozzis (mostly jokingly) referred to repair shops ripping off car owners, said Paul Brown, president of AutoShop Express, a distributor of auto dealer supplies.
"The guys loved to tease about repair shops overcharging customers or performing poor work," Brown noted. "And a lot of times, they were pretty funny, especially when they were joking about their own shop.
"But I'd hate to think that listeners came away from the show, thinking that's what repair shops are really like."
Over the years of selling auto dealer supplies, AutoShop Express has dealt with a whole range of repair shop owners, he said. "In general, they all wanted to provide their customers with good work at a good price."
Of course, there's always a bad apple somewhere in any bunch, and Brown offered a few tips to avoid the bad apples and to find a reliable auto repair shop:

Look for association affiliations (like AAA, NAPA Autocare or Automotive Service Association) and certifications (such as ASE or AC Delco)
Ask for customer references – actually check with the references and request specific answers on items like pricing, qualty of work and customer service
Find out if the shop specializes in a specific type of car, repair or service
Learn what warranties they offer
Ask how long they've been in business
"It's easiest to get answers to those questions when you don't actually need a repair," Brown said. "But, in an emergency, there are several online services that offer mechanic recommendations, including Car Talk's own 'Mechanics Files'.
"In the end, you need to trust your instincts. If something doesn't feel right, it's OK to walk out and look for another shop," he said. "And, even if the store isn't someplace your mom would frequent, if it feels right, it feels right. The important thing is to find an auto repair shop you can work with and trust."
Ohio-based AutoShop Express distributes a wide variety of auto dealer supplies, including oil change stickers, disposable floor mats and seat covers.