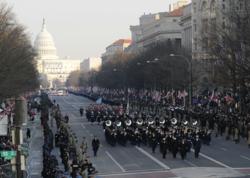 Washington DC (PRWEB) October 03, 2012
Joint Task Force ̶ National Capital Region accepts applications for Inaugural Parade
The Joint Task Force ̶ National Capital Region 57th Presidential Inaugural Staff is now accepting applications from organizations wishing to participate in the Inaugural Parade, including marching bands and community and civic organizations.
All applications must be submitted online at http://www.2013InaugurationParade.mil, where interested parties can access additional information about the parade and view detailed instructions for completing and submitting their materials. Organizations are able to log in, create an account, enter relevant data, as well as upload organization photos, a group biography, video clips, and copies of supporting correspondence from government and political leaders.
Applications will be collected and organized by JTF-NCR for review by the Presidential Inaugural Committee, which will be appointed by the President-Elect shortly after Election Day in November. The PIC selects which organizations will participate in the Inaugural Parade.
No applications or materials will be accepted via ground delivery.
Office of Public Affairs, Media Relations
Release Number#: 57-2012-10-002