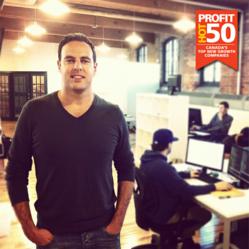 We are honoured to be recognized by PROFIT Magazine for growing rapidly and successfully re-branding in the past year," says Yoav Schwartz
Toronto, Canada (PRWEB) October 04, 2012
PROFIT Magazine ranked Uberflip #13 on its 13th annual PROFIT HOT 50, the definitive ranking of Canada's Top New Growth Companies. Published in the October issue of PROFIT Magazine and online at PROFITguide.com, the PROFIT HOT 50 ranks young firms by two-year revenue growth.
"We are honoured to be recognized by PROFIT Magazine for growing rapidly and successfully re-branding in the past year," says Yoav Schwartz, Uberflip Founder and CEO. "The award is dedicated to the Uberflip employees who work tirelessly and passionately to make Uberflip a world class platform, and to our customers who are growing with us and who have become such great ambassadors for our product."
Uberflip, with 18 employees and growing, is a B2B software-as-a-service that allows any firm with PDF content to convert their existing multi-page documents into stunning, interactive flipbooks that works seamlessly across desktop, smartphones, and tablets.
"A talented and diverse group of entrepreneurs have built this year's HOT 50 companies," says Ian Portsmouth, Publisher and Editor-in-Chief of PROFIT. "Their creativity and ambition spell a bright future for their businesses, and point the way to success in Canada's ever-challenging economy."
Although the tech start-up has been around since 2008, they re-branded as Uberflip (previously known at Mygazines) earlier in 2012. Along with the re-brand, they also changed their pricing model dramatically with the introduction of a free trial, and a new $29.95 price point.
"Marketers are needlessly spending thousands of dollars to create mobile apps that make their brochures, whitepapers, newsletters, product guides, and other such documents available across a multitude of devices," says Schwartz. "They can now make their PDFs instantly available with a device agnostic format. Better yet, we have the tools to enhance, promote, and ultimately track the content. We prove our worth with a no-risk free trial."
About Uberflip
Uberflip (http://www.uberflip.com), formerly Mygazines, makes it easy to enhance, distribute and track PDF content on tablets and other devices. Within minutes, documents are converted into page-turning experiences where leveraging links, video and social media integration is just the beginning. The Uberflip Application allows marketers, publishers and other content creators to meet all distribution, security, monetizing and tracking requirements for their content. Uberflip's solutions help companies save costs and make money through new marketing channels. To see Uberflip first-hand, visit their monthly newsletter Going Digital.
About PROFIT Magazine and PROFITguide.com
PROFIT: Your Guide to Business Success is Canada's preeminent publication dedicated to the management issues and opportunities facing small and mid-sized businesses. For 30 years, Canadian entrepreneurs and senior managers across a vast array of economic sectors have remained loyal to PROFIT because it's a timely and reliable source of actionable information that helps them achieve business success and get the recognition they deserve for generating positive economic and social change. Visit PROFIT online at http://www.PROFITguide.com.