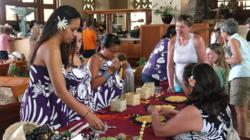 "This is an extraordinary opportunity to learn Hawaiian cultural practices in a hands-on interactive environment," Stella Burgess, Director of Hawaiian Culture and Community Affairs, Grand Hyatt Kauai Resort & Spa.
Kauai, HI (PRWEB) October 05, 2012
The Na Lima Hana Festival (meaning many hands working), brings a series of Hawaiian cultural educational events, food events and entertainment to the Grand Hyatt Kauai Resort and Spa, October 17-20, 2012. Many of these events are free of charge to the public. In addition to a multitude of hands-on cultural demonstrations, this year's festival brings a "chop box" food competition, cultural tours and new entertainment from a group of Niihau musicians. The "chop box" competition will be similar to the popular "Chopping Box" program on The Food Network television channel. Four amateur and four professional teams will compete to prepare an entrée. In addition the Hawaii Lodging and Tourism Association Kauai (HLTA-Kauai) will host a conference that includes a cultural tour of Kauai's south shore along with sessions on gathering, cleaning and creating native Hawaiian arts from indigenous plants. As part of the series of Na Lima Hana events, a two-day intensive workshop on how to write grants for funding from the American Native Administration (ANA) is also scheduled. ANA is an organization devoted to Native American programs and enhancements including those for Native Hawaiians and Pacific Islanders. For a complete event schedule, go to http://nalimahana.net.
All of the different events throughout the Na Lima Hana Festival are organized to perpetuate Hawaii's cultural traditions. Hawaiian arts, native customs, cultural health practices and time-honored traditions are demonstrated through an interactive learning environment. Participants are taught the essentials via hands-on participation. This festival is the last in a series of events grouped within the Kauai Aloha Festivals (http://kauaialohafestivals.net).
These events are sponsored, in part, by the Hawaii Tourism Authority and Kauai County. For more information contact Stella Burgess, director of Hawaiian culture and community affairs at the Grand Hyatt Kauai Resort and Spa, 808-240-6360 or stella.burgess (at) hyatt (dot) com.