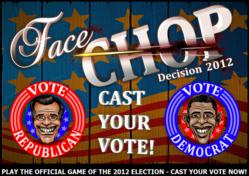 Washington, DC (PRWEB) October 04, 2012
Though the real polls don't open for another month, the world can cast their votes right now, on their phones, in Face Chop: Decision 2012.
Face Chop: Decision 2012, the new mobile game from Mayonnaise Games lets players weigh in on the election in a new type of poll: chopping faces from across the political spectrum.
In Classic mode, players can play as a Democrat or a Republican, and chop faces from the other party to rack up votes. In Arcade mode, the player has one minute to chop as many faces as they can, and even find bonus faces to take "voting" to a whole new level. Independent? Play in Democracy Mode, where both parties get equal face time.
Along the way, players can unlock new ways to chop and show their true feelings about the politicians, from slime streaks to barbed wire to the American flag--but there's not a hanging chad in sight.
Poll results will be tabulated in real time within the game and on the Face Chop website. Who will win the Face Chop Election?
Face Chop: Decision 2012 is available now for the Android in the Google Play Store. For more information please visit the Face Chop website at FaceChop.com. Vote early and vote often!
About Mayonnaise Games:
Mayonnaise Games was created to inject some inappropriate fun into the politically correct world of browser and mobile games. Our games might offend people but they'll also always make them laugh.
Thanks for supporting independent game developers.