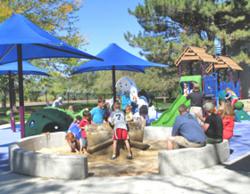 Delano, Minn. (PRWEB) October 09, 2012
The STAR (Sensory Therapies and Research) Center, located in Greenwood Village, Colo., celebrated the grand opening of its state-of-the-art sensory playground on Saturday, Sept. 29. The playground, designed and manufactured by Landscape Structures Inc., a Delano, Minn.-based commercial playground equipment manufacturer, will be used as a therapy tool to treat children with sensory processing disorders (SPD).
The grand opening event welcomed nearly 300 people from Greenwood Village and surrounding communities. Many of the children and families in attendance were clients of the STAR Center, who were excited to see the playground in action. In addition to a ribbon cutting by Dr. Lucy Jane Miller, founder of the SPD Foundation and STAR Center, Pat Faust, president of Landscape Structures, Greenwood Village Mayor Ron Rakowsky and Patrick Pratt, representative from the South Metro Denver Chamber, the event featured music by the Nacho Men, a barbeque lunch, face painting, games and opportunities to play on the sensory playground.
While creating the design for the STAR Center's playground, Landscape Structures took into account the different sensory needs of the children who will be using the equipment. A variety of components included offer something for all kids experiencing sensory processing disorders:

The Sensory Processing Disorder Foundation and its sister organization, the STAR Center, began collaborating with Landscape Structures earlier this year. Because playgrounds and play are an important part of children's lives, the SPD Foundation, STAR Center and Landscape Structures worked together to design a truly inclusive and sensory-stimulating playground. This new play space will become a "natural" therapy setting that will be incorporated into children's daily lives.
Since 1971, Landscape Structures Inc. has been the leading commercial play equipment manufacturer in the world. The employee-owned company is committed to making the world a better place with active children thriving in leading communities year after year, generation after generation. Landscape Structures encourages outdoor play that develops healthy kids and a sustainable world by creating innovative products that are environmentally responsible. As a leader in inclusive play, Landscape Structures is committed to designing truly inclusive playgrounds that provide places where children of all abilities can play, learn and grow together. The company's mission from day one has been to enhance children's lives by fostering and creating inspiring play experiences while honoring the environment.