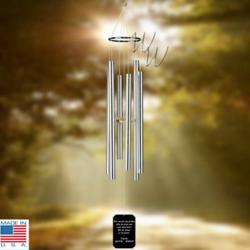 We appreciate that the environment is in a fragile place right now, and the only thing we can do to protect it is to try and use less of the planet's limited natural resources
Clarksboro, NJ (PRWEB) October 04, 2012
Whimsical Winds, an internet retailer of wind chimes and other garden décor items, announces today that by using wind energy in place of the typical fossil fuels to power their office, they can ensure that the carbon footprint they leave is as small as possible.
There is approximately 72 terawatts of wind power available globally, which is about ten times more energy than the entire population uses. The United States now hosts more than 50 gigawatts of this wind power, making wind energy the most successful new energy technology since the 1980's.
This is why the Whimsical Winds office has partnered with Community Electric, whose offices are in nearby Radnor, PA. The office's energy received from Community Electric includes an estimated 50% New Jersey wind power, 49% regional wind power, and 1% New Jersey solar power. The cost of the energy used by Whimsical Winds is about 5% more than that of traditional electricity, because of transmission costs.
"The energy we are now using does cost a little bit more" said Alexander Innes of Whimsical Winds Wind Chimes. "The extra cost to me, though, is a very small price to pay for doing just a little bit to save our corner of the planet. We appreciate that the environment is in a fragile place right now, and the only thing we can do to protect it is to try and use less of the planet's limited natural resources."
It is this dedication not to take advantage of an already fragile environment that has driven Whimsical Winds to make the move to wind energy to power its company office. Not only is the Whimsical Winds office now powered 100% by renewable energy, but the company has also recently made the decision to replace all the lights in the office with energy efficient LED bulbs and it utilizes a thermostatically controlled heating system. Through the effort taken to reduce its carbon footprint, Whimsical Winds Wind Chimes has set an eco-friendly example that more small businesses will follow in the future.
You can visit Whimsical Winds Wind Chimes at: http://whimsicalwinds.com
Or Like them on Facebook at: http://facebook.com/whimsicalwinds
About Whimsical Winds Wind Chimes:
Whimsical Winds Wind Chimes is the largest retailer of wind chimes on the web with over 800 styles available from some of the most popular wind chime manufacturers. Wind chimes make the perfect gift, memorial, or personal addition to your home. Carrying chimes, bells, gazing balls and wind spinners from over 14 manufacturers, you are guaranteed to find the perfect decorative piece.