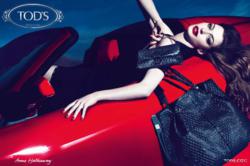 I've loved Tod's for a long time, they've always been very generous, and I've worn their stuff for a long time.
(PRWEB) October 18, 2012
Today, Rodeo Drive Resale (http://www.shopRDR.com), premier reseller of 100% authentic Christian Dior heels, discount Chanel handbags, Tod's shoes, and other luxury fashions, highlights a few celebrity sightings from Paris Fashion Week, which took place September 25 through October 3.
All the stars have left the states for Paris Fashion Week: Kanye West was spotted at the Chanel show, Twilight actress Kristen Stewart was seen at Balenciaga's runway presentation, and, of course, Beatles member Paul McCartney showed up to support daughter/fashion designer Stella McCartney at her label's Spring/Summer 2013 showcase.
Also spotted in Paris was Scarlett Johansson, co-star of the upcoming film Hitchcock.
Rocking a very fitting white Christian Dior cocktail dress, Johansson proved to be a photographer's dream at Tod's handbag launch Tuesday (Oct. 2) night in Paris.
The 27-year-old actress would sing the praises of Tod's, saying she's been a fan of the Italian company for quite some time.
"I've loved Tod's for a long time, they've always been very generous, and I've worn their stuff for a long time," Scarlet told WWD. "It's wearable, comfortable and classic."
Even more interesting was confession that she has experienced her fair share of fashion missteps throughout the years some off which occurred in perfect view of the public eye.
"It's weird for me, because I've been photographed for so long... and sometimes you look back at those red-carpet pictures, and you're like, 'What was I thinking?'" she joked. "I think everyone has that, maybe not on that scale... but everybody has their shameful red-carpet moment."
ShopRDR.com loves fashion and invites shoppers to fall in love with the world famous red bottom heels all over again during a special promotion titled, "Christian Louboutin: Red with Envy."
Every shoe lover has their preference, but most agree: When it comes to style and status, few designers have created a niche in the world of upscale fashion like Christian Louboutin, whose high-end heels have become a fashion favorite both for their superior craftsmanship and their signature red-lacquered soles.
During "Christian Louboutin: Red with Envy," luxury enthusiasts can score big savings on an array of Christian Louboutin heels, all of which are backed by a 100% guarantee of authenticity.
ShopRDR.com's latest event is just one of several major promotions from the popular online reseller in the past several weeks, as shopRDR.com held both its Labor Day Weekend sale and its animal print campaign, "Walk On The Wild Side" last month. The successful Labor Day Weekend sale offered savings of up to 25% off all designer clothing and an additional 15% off all designer shoes with free shipping on orders of $200 or more, as well as 10% off all designer handbags, one of fashion's greatest investments, noted shopRDR.com co-founder Raya Jaffer: "Designer handbags typically do not go out of style, which is good because they can last for many years."
Rodeo Drive Resale (shopRDR.com) has built a reputation of providing amazing deals on handbags, clothing and accessories from the top designers of upscale fashion. The company offers a 100% guarantee of authenticity on each item sold, and works daily with a network of clients looking to buy, sell, or for consignment of their luxury goods.
ShopRDR.com loves high-end fashion, and believes finding a high quality, classic piece should be an easy, enjoyable -- and most importantly -- hassle-free shopping experience. For the finest in Louis Vuitton, Chanel, Prada, Gucci, St. John Knits, Christian Louboutin, Tiffany & Co. and more, visit RDR online at http://www.shopRDR.com or call 1-888-697-3725. Also find shopRDR.com's blog at http://blog.shopRDR.com.
Also find shopRDR at:
Blog: blog.shopRDR.com
Facebook: facebook.com/shopRDR
Twitter: twitter.com/shopRDR
YouTube: youtube.com/ shopRDR
Pinterest: pinterest.com/shopRDR
Rodeo Drive Resale (shopRDR.com)
1-888-697-3725
service(at)shopRDR.com