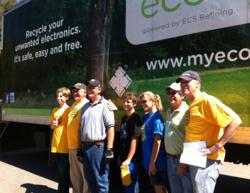 Scotts Valley, CA (PRWEB) October 04, 2012
On Saturday September 15, 2012, the City of Scotts Valley held its annual e-waste collection event. It was the City's 10th annual event and a tremendous success! As a service to its residents and businesses, the City and Scotts Valley Rotary collected over 20,000 pounds (10 tons) of electronics, mostly in the form of computers, monitors and television sets. These items are now banned from landfill disposal because of their hazardous material content of lead, mercury, and other heavy metals.
By participating in this event, the community helped to insure that the items collected will be properly recycled and disposed by ECS Refining, an E-Steward Certified Recycler, and will not become a source of pollution to local rivers, streams and groundwater supplies.
Proceeds will benefit Rotary community programs and Scotts Valley recycling programs.
About ECS Refining
ECS Refining is a full-service electronics recycling and asset management company, headquartered in the heart of the Silicon Valley. ECS is vertically integrated and offers a broad spectrum of recycling and asset management solutions, ranging from e-waste shredding to IT and industrial asset resale. The company utilizes state-of-the-art technology and over 30 years of experience to provide the most comprehensive, responsible solutions in the industry. As a member of e-Stewards, ECS strives to maximize value recovery and ensure data security while safeguarding the future of our planet. No landfills. No exportation. No exceptions. Visit http://www.ecsrefining.com to learn more.